The Megabass Arms Challenge World Edition rods.
These rods were limited to a worldwide production of 100 pieces per model.
Purchasers were able to customize each build by choosing options such as LEFT HAND or RIGHT-HAND orientation for the grip along with guide wrap colors, etc.
These rods utilized the legendary X7 blanks.
---
2013. The F3-610 specs that supported Aaron Martins finesse game, the world's strongest title, finally feed back to the ARMS Challenge Spin Competition. A. O. In order to commemorate Y., he requested the Ito Factory for a special model of the ARMS Challenge. Gin Fizz is a special tour function model that infuses Aaron's many thoughts and his fishing style with Yuki Ito's original technical arrangement. A wide range of finesse methods is developed, including fishing for Shaky Head, which Aaron and Ito excel at, and a light approach for small jerk baits. Of particular note is its long-distance castability ability. The long-throw performance that can contact a spooky target that cruises far is brought by the high-impact full 7-axis blanks and his unique guide settings that are unique to ARMS.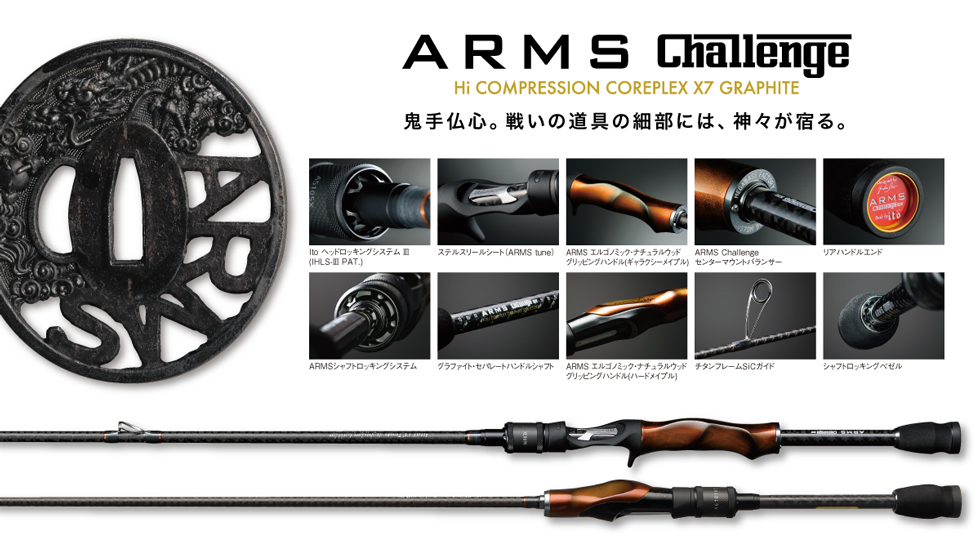 Go back a quarter-century from now. It was born as a weapon to fight the life of one man together. Its name is ARMS. Yuki Ito carved teakwood with his own hands and combined the shaft made of high elongation and high elasticity material used for aircraft at that time. ARMS was a mega bang DNA that later created Destroyer, derived Evolzion and Pagani, and was handed down to the latest Orochi. For a man who has betting his life and confronting his target one-on-one, it may have been beyond the rod. For Ito, fighting at ARMS was fighting with his own arms and may have been a way to arrange meals on the table for the family. ARMS is LIFE for fighting men.
Now, ARMS begins with you to challenge the far-reaching evolution in search of the strongest target ever. Just like that time.