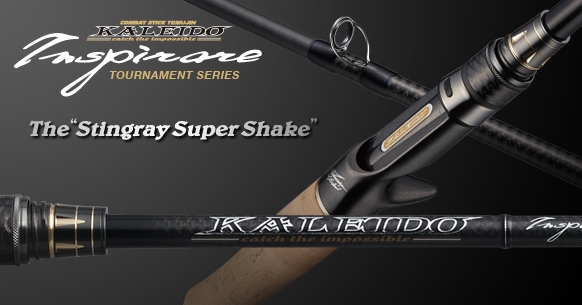 Stingray with hard shake specifications with all-tube construction and tension on the tip.

The lure weight range that must be covered by the technique of bait finesse is surprisingly wide, which means that it is never meant to handle only ultralight lures. Stingray Super Shake is a rod that was born to optimize operability in bait finesse handling weights of over 7g lures (3.5g Sumoraba with 3 inch trailer and total weight around 6.5g).
The prototype was the Desino Stingray 66 with a solid tip that reigned as the bait finesse royal road rod . The solid tip is slightly dripping under its own weight, so it is characterized by being able to cast an ultralight lure using the dripping, but if the total weight of the lure exceeds 7 g, the tip dripping becomes too large and it becomes a negative element I will.
Therefore, the solid tip, which is synonymous with bait finesse, is unintentionally used, and the whole body is unified with a low-resin pure carbon tubular material that stretches the whole body. Adoption). The all-tubular construction has clearly improved the tip tension, making it possible to control lures with a total weight of 7g or more that were difficult to handle with solid tips.
In addition, the tubular tip demonstrates excellent performance in shaking as the name of Super Shake. You can convey the intention of Angler to the lure as you wish, and you can give a crisp and sharp action that is different from the solid tip. Lightness due to short length and high sensitivity due to tubular tip. Inspire's original semi-micro guide setting provides a crisp feel. In addition, the use of a foregrip-less system has provided tremendous operability, and the hard-shaking performance is further polished.
In addition, the stingray super shake with a tubular and regular taper that is easy to handle without habit is also a model with stronger Versatile characteristics than the dedicated machine for solid tip bait finesse, not only small rubber jig, but also neko rig, heavy down shot In addition to rigs and light Texas rigs, it has excellent operability for small cranks, shads and minnows.
Low resin pure carbon is used as the main material. Employs a ± 30 ° kaleido super quattro cloth manufacturing method with a high density of diagonal reinforcement on the lower bat part from the former guide.

Guide system

Inspire's unique ultra-light semi-micro guide setting . Since the line is set at the last height that does not rub the blanks when the rod is bent, the core of the rod is easy to eat and power loss during casting and hooking is reduced. (Fuji titanium frame SiC ring guide)

Fore grip

Eliminating the fore grip and realizing further weight reduction. In addition to the winding check of the sharp design, the minimum 4-axis carbon sleeve nut greatly contributes to weight reduction and high sensitivity.

Reel seat design

The reel seat is a thin and lightweight Fuji ECS reel seat with a blank touch method that emphasizes ease of grip and sensitivity . The tournament series is given a titanium color that matches the cork grip, creating a texture that is the finest.

Sign

As a proof of Katsutaka Imae's production, the tournament series reel seats were signed in Roman letters.

Grip design

Uses a separate grip that emphasizes operability and weight reduction. The tournament series uses cork as the most important center grip material to touch. Cork is characterized by its high hardness and light air, so it is lightweight and has excellent sensitivity transmission. The grip end is fitted with an original end plate with a kaleidoscope motif.
full length
1.91m
Joint number
1
Standard weight
109g
power
Medium light
Lure range
7-21g (1 / 4-3 / 4oz)
Line range
6-14lb
price
71,000 yen (excluding tax)