THE BREAKDOWN:
Manufacturer: Sedition
Name: Cristobal – Insane Bait Finesse Terrorist
MSRP: 67,100 JPY
Origin: Japan
Blank: High Modulus Carbon
Length: 7'2"
Power: Medium-Light
Pieces: 2 (offset/removable handle)
Taper: Fast-Medium Fast
Lure: 1/8-5/8 oz.
Line: 5-12Ib.
Rod Weight: 118.77 grams
Handle Lengths: Rear Grip: 9 1/8"
Front of Trigger to Butt: 10 3/8"
Hood to Butt: 12 7/8"
Fore Nut to Butt: 14 3/8
Grip Material: Wrapped/EVA/rubberized cork/Monocoque Rear
Reel Seat: Fuji PTS with modified Trigger
Guides: Fuji Torzite Spiral Wrapped left with inverted Stripper and 2nd guide
Number of Guides: 9
Manufacturer Suggested Techniques: Multi purpose Bait Finesse
JDMfishing.com Recommendations: Drop Shot, Neko, Darter Head/Open Hook presentations
Sensitivity: 4/5
Balance: 4.25/5
Power: 4.5/5
Special Notes: This Cristobal Ltd is one of 50 made. The Ltd. version features a spiral wrap Torzite guide train, and modified, painted PTS reel seat, with a custom shaped trigger, short wrapped EVA main grip, and monocoque rear grip/butt end.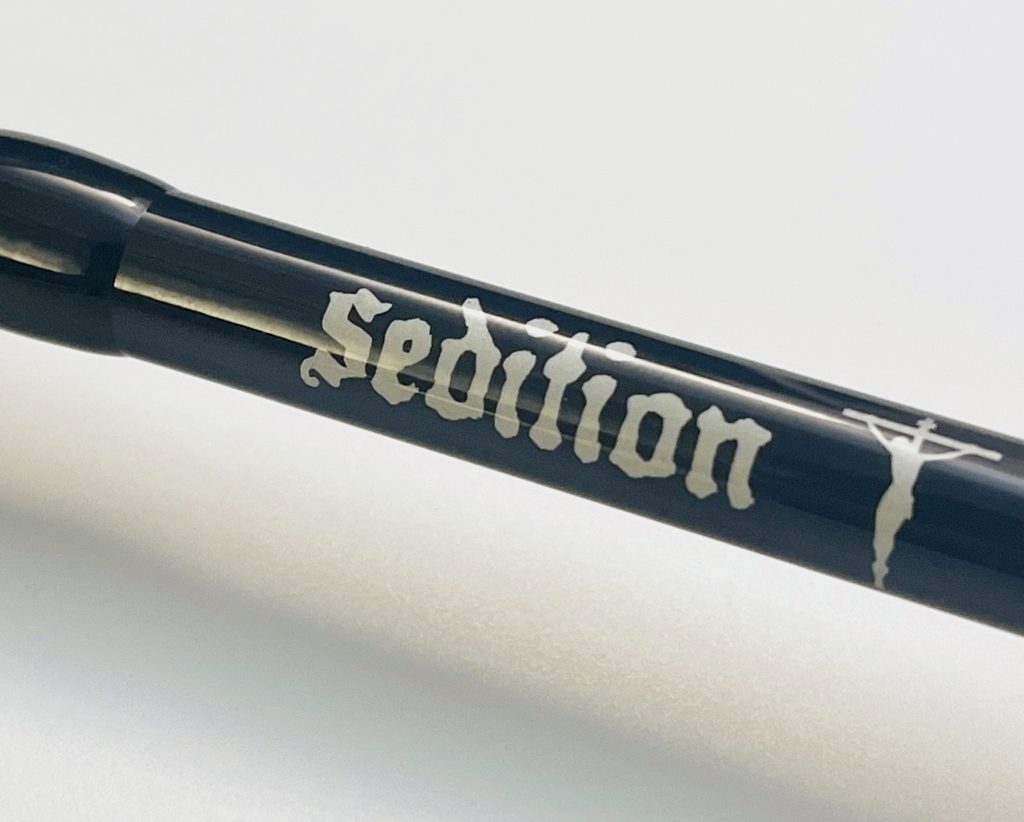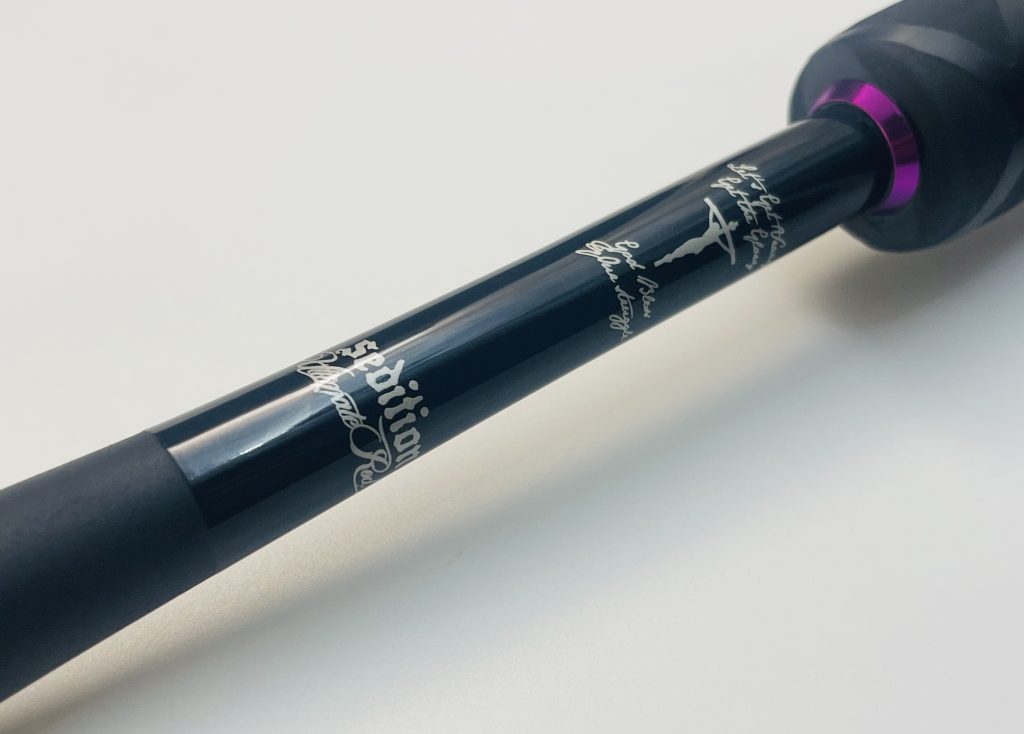 In the specialized and often debated world of BFS, hardcore enthusiasts know that most of these rods are usually of shorter stature. A BFS rod upwards of 6'6" in length is not the norm. Most BFS rods measure anywhere between 5' – 6'6" and are usually rated "UL" (Ultra Light) or "L" (Light) in power, with the exception of a few longer offerings that get up towards the 7' lengths.
Those longer BFS rods in the medium light (ML) range is where things start to transition away from true BFS in many of these anglers' eyes. But…for me, that longer "ML" rated casting rod is what I prefer and usually reach for when utilizing what I still consider BFS, for several reasons.
I use spinning gear VERY rarely, if ever and never fish using anything lighter than 6lb. test along with baits/rigs weighing less than 1/8 oz total. Yes…to me 1/8 oz. is very much within the "BFS" realm.
I generally prefer slightly longer fishing rods, especially when fishing a lot of clear water, as I can make longer casts and use that distance from my targets to my advantage, as I'm not spooking any intended target fish as easily.
I almost never fish streams, small ponds, for panfish, trout, or other smaller game fish. I'm a bass fisherman 99% of the time and the waters I fish on a regular basis are home to a lot of structure/cover and larger fish. A ML-rated stick gives me needed confidence and power to handle larger fish in these conditions vs. anything lighter in power (which I will reach for in certain situations).
For me, a longer BFS-oriented stick that handles 6-10lb. test nicely, is what I'm fishing with when I do break out the lighter gear. While I do own several Light-powered rods that I love, as mentioned, they have very specific scenarios they are used in. I tend to gravitate towards BFS rods starting at 6'4" and up as a default. Among the BFS rods I do own, there is one in particular that I've been getting know very well for a few years now, that literally…stands out above the rest.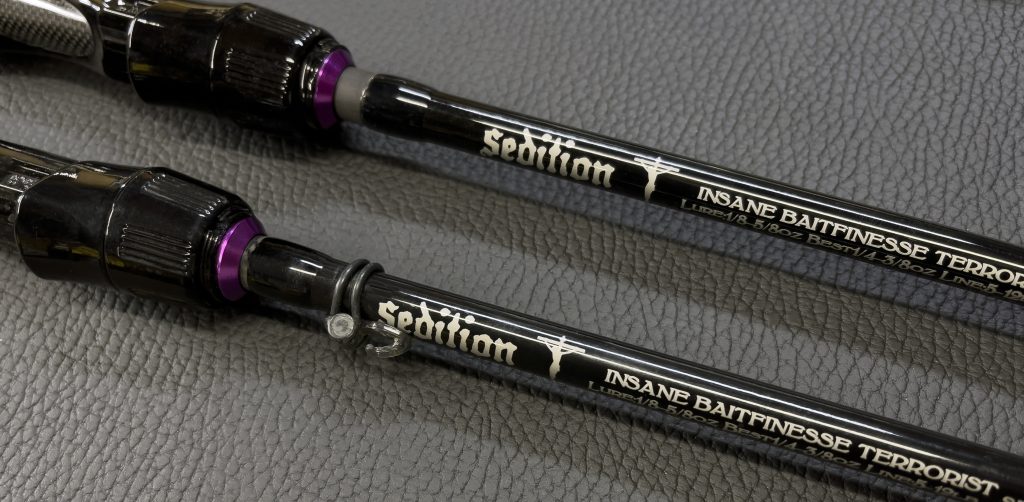 At 7'2"…the Sedition SDC-702ML Cristobal "Insane Bait Finesse Terrorist" is what I call a "Black Sheep" in the BFS world. There are not many UL-ML-rated bait casting sticks out there measuring in at this length and more importantly, even fewer like it when it comes to aesthetics, characteristics and in my opinion…capabilities.
This specific model I've been using is the Cristobal "Limited" version and is one of only 50 made. This Ltd. version features a spiral wrapped Fuji Torzite guide train with an inverted stripper guide and while I'd like to, I won't get into the reasoning/advantages behind spiral wraps (A.K.A Acid Wraps). I do however urge you to research and understand it a bit better, as it has real benefits over conventional casting rod guide train placement.
Features of this limited model include a modified Fuji PTS reel seat with a custom shaped trigger that's been painted in gloss black vs the stock Fuji ECS seat used on the standard edition. The trigger on the Cristobal Ltd. has been shaved down quite a bit and is basically just a small nub. While small for my larger hands, it's quite comfortable, but different users will have different preferences when it comes to this. These modified/shaved down triggers have been around for some time, and a more drastic take on this modification was popularized by Tiemco (JDM Fenwick) who completely removes the trigger on most of their BFS casting rod offerings. Love it or hate it, it's an interesting mod and I'm personally a fan.
Another unique trait of this limited edition is the extremely short, minimalist main grip that's been wrapped in a shrink wrap material. This tiny grip is almost non-existent compared to the standard model/other rods, but is effective in that it supplies just enough material to be gripped during a cast and provides support for the edge of your hand while palming during the retrieve. I'm usually not a fan of this cross-patterned wrap on grips, but in my opinion, it works (aesthetically) on this model.
A non-slip/coated monocoque rear handle/butt section that's adorned with laser engraved, purple anodized trim and a rubberized cork butt cap makes up the back end of this stick. This monocoque rear grip section is nearly identical in shape to the earlier Jackall X Shimano Poison series of rods, but the coating used on Sedition's rear segment is not the same used on the Poison series. It's actually a lightly texturized, almost grainy finish that feels more like worn down sand paper without being too rough. It's quite unique and provides excellent gripping characteristics, while also feeling much more durable than the other rubber-coated variants out there.
Lure ratings are at 1/8-5/8oz, respectably and Sedition goes a step further, recommending "Best Weights" at 1/4-3/8. Another interesting, yet cool little difference that sets this brand apart. From my experience with this stick, these lure ratings have proven to be very much on point.
Additionally, the rod is unique aesthetically, as are all of the Sedition builds. This is something I have come to expect and love about this small, obscure brand's offerings. For lack of better words, their signature style of building rods is just plain nasty (in a good way). The black and purple theme used throughout many of the Sedition products is one of my favorites amongst JDM (or any) rod offerings to date. Anodized winding checks embellished with edgy (sometimes campy), laser-engraved logos, slogans and catchphrases adorn this stick. Phrases such as "God Bless Your Struggle"… If you are familiar with the builds, you know that Sedition prides itself on going against the grain, as the definition of the company name itself would suggest. This is something that really helps set them apart in this heavily saturated and often redundant market. It's apparent that there is a different, darker, "anti-norm" message that Sedition is trying to convey. It resonates with someone like me and again, it's always great to see something different in this industry (or any for that matter).
Balance and Reel pairings
Both aesthetically and balance-wise, the Cristobal Ltd. pairs beautifully with a reel in the 6 oz. range. For most of my testing, I've kept the Cristobal Ltd. paired up with a modded and tuned Zonda 68 that features an 80mm Itö carbon fiber handle, black Hedgehog Studio 6 point drag star, Carbontex Drag stack, custom painted matte black palm plate (to match the rest of the frame), and a Megabass Zonda honeycomb spool, loaded up with 8lb. Sunline Sniper FC. In my opinion, this rod and reel pairing are quite simply made for each other. That said, any smaller sized bait caster in the mentioned weight range should mate and balance very nicely with this stick.
Power ratings and specs
As many of us already know, perceived rod ratings/specs vary GREATLY from manufacturer to manufacturer. There is no standardized system for lining out specs and what might be perceived as a ML (Medium-Light) -powered rod to one company, may be perceived as a M (medium) or even a L (light)-powered rod to another. I own many rods that are, in my opinion, very inaccurately rated. This stick, is rated as an ML-powered rod, but the extra length, butt and tip section blurs that line a bit. The tip section easily falls into a true ML power rating, while the butt section leans towards M+ and as a result, only adds to this unique rods' ability to handle a wide range of baits, while earning what I would consider a ML+ rating with a slight tilt towards Medium in overall power.
Above: The taper tester speaks a thousand words, as the tip section is nice and fast in the beginning stages. After a load is applied, as expected, it gives way and bends deeper into the backbone, allowing this rod to do an outstanding job of keeping fish pinned on light line, yet, it yields solid power when needed, especially for those long distance hook sets and controlling larger fish.
ON THE WATER TESTING
NOTE: Before moving forward, I want to make it a point to let our readers know that we prefer to focus on long term reviews here at jdmfishing.com, as we believe it often takes some time to really put most pieces of gear through thorough testing. This one is no exception, as I've been fishing with this rod for over three years. That's not to say that sometimes you just know that certain pieces of gear are special right after you pick them up, but this extended amount of time spent on the water with the Cristobal Ltd. has allowed me to thoroughly test it in many different situations, including some highlight trips and many other long days, in which this rod was the primary weapon of choice.
I initially began testing by putting the Cristobal Ltd. up against some of my all-time favorite ML-rated rods in short head-to-head comparisons. It's easy to say that this rod grew on me quickly. It began to overshadow some truly amazing sticks…sticks that I'm very fond of, so let me share why.
First up…I tied on what many of us would probably think this rod would be best at, the good ol' Drop Shot. My staple 3/16 oz Tungsten weight and a size 1 light wire Gammy EWG worm hook and 6" straight worm would be the first rig utilized on the Cristobal Ltd.
As stated, I fish around a lot of light to moderate brush, rocks and grass, so I'm often rigged up Tex-sposed versus nose-hooked. For reference, I prefer a 6-12" leader in shallow water when making shorter casts with little to no cover, but will go all the way up to a 36" long leader when making long casts into deeper water, fishing up hill, or when I want to get my offering above any grass or cover I may be fishing.
That said, a 24" long leader was used to start off with, as I was making long casts, working my 6" worm back to the boat over and beside long points, covered in both chunk rock and sparse brush. As anticipated, the light tip section of the "Insane Bait Finesse Terrorist" immediately began proving itself effective for imparting action upon my offering. That tip section really lines up with how I fish and also serves another important purpose in that it can keep my hook from getting too deeply lodged into cover/structure. With a little bit of manipulation and some focus, my rig almost never got hung up to point of needing to be broken off. Tip sections of rods are something I am very critical of when it comes to tackling certain types of structure or cover. For me, too much power means more hang-ups, so a light/soft tip section is a must, especially when fishing rocky terrain. The Cristobal Ltd. has that "it" factor when it comes to this and its solid sensitivity/ability to clearly transmit what my worm/weight combo was doing down below. These two things combined are a huge plus as I can keep my Drop Shot weight on top of said terrain and avoid deep hang-ups.
About 20-30 minutes into that initial outing, I capitalized on my first bite that, one that came at the beginning of a long cast made parallel to the point I was working in about 15 feet of water. Given the length and power, or perceived lack thereof, my mind had defaulted to thinking there'd be a need for a dramatic hook-set, so I reeled down and swung back, leaning into that fish somewhat fiercely. To my surprise, the Cristobal Ltd. shut down much more quickly than anticipated, getting into the power of the butt section fast and pegging that first victim with ease. That healthy fish came almost straight up out of the water for some fun and a short while later, the 3.5+ lb. largemouth was aboard the boat for a quick visit. Several more fish in the 2-3lb. range were caught that day, utilizing varying lengths of leaders and this stick clearly showed me what it was capable of in the power department.
After getting very well accustomed to the Insane Bait Finesse Terrorist's ability to handle Drop Shots, next up was a Ned rig utilizing a 1/10 oz. guarded Ned-head, rigged with a bunch of different baits. Robo Ned worm, Z-man TRD, and some hand poured finesse craws were used most often. Casting distance was good with 8lb. test spooled up… just not as good as I'd hoped for and I found myself swapping Zonda honeycomb spools/downsizing my line to 7lb Sniper, which helped a bit, with the Robo Ned worm being heaviest, thus achieving th best distance. For as little as I like to pick up a Ned, I really enjoyed doing so on this rod. She played nice with the nubby little baits, even tricking a few into eating while utilizing a hop n' long pause cadence. As a bonus, none of the fish came unbuttoned, even when skin-hooked in the roof of the mouth. The tip, mid and butt section were doing their job very nicely getting the hook past the wire weed guard and into tissue. I've recorder nearly a dozen outings fishing a Ned on this stick, and it's on the list of suggested techniques as long as your total weight is closer to 1/4 oz.
Next…I went with a Neko rig. The Daiwa/Yamamoto collab Neko Worm and Jackall Flick Shakes were in order with varying nail weights. A 1/32 tungsten nail with a 4.8 Flick Shake supplied enough weight to achieve good distances on the casts, while going down to a 3.8 was just not enough to get the Cristobal to really load up, requiring me to step up to a 1/16 or 3/32 nail to get the distance I needed. Once on the bottom, that tip section went to work. It's just soft enough to keep the action subtle and natural-looking with hardly any input, but of course, can quickly change presentations with quicker, more dramatic snaps of the wrist. I mixed it up, and put fish in the boat utilizing both cadences, even doing some slow dragging, which yielded success. The Bait Finesse Terrorist embedded that Owner hook into my catches mouths, and kept them pinned, with only one coming unbuttoned as a result of a weak hook-set on my part.
Needless to say, this rod was seriously growing on me, but alas…nothing is perfect and while there are a few minor cons I'll list later, there is one thing in particular that I started to notice while using this stick early on…
When making long casts with the Cristobal, my rigs would tend to launch/land slightly to the left of my intended target(s). At first, I was certain is was me, so I started to make adjustments to my mechanics during the cast, but…to no avail. Not one, but all of my rigs were landing to the left of where I wanted them to. Keep in mind, this was happening on days with little to no breeze, or in very light winds. Honestly, nothing that should have an effect on trajectory. I started to question whether the Spiral Wrap on this rod had something to do with it. Could the combination of a left-sided wrap and right-handed cast equate into what was happening? My mind tells me that it's possible and maybe that's the case, but I have not tried to prove this theory. Instead, I've now defaulted to compensating for the slight inaccuracy. Is it a deal-breaker?…No, but is definitely worth mentioning.
That said…Many more trips and techniques tested on this rod, followed. I was starting to fall deeply in love with this gem, regardless of any shortcomings, but the best was yet to come.
An annual trip up north was coming up, which would entail 9 straight days of fishing for both largies and smallies in Northern Washington and Idaho. You bet your ass the Cristobal Ltd. was coming along.
After a 19 hour drive straight through, I met up with my good buddy and co-founder of jdmfishing.com, Ryan Higgins. A small lake bordering Canada was our first target for some pre-/early spawn Smallmouth. This would be my first trip to this shallow, crystal clear body of water and it was absolutely beautiful. I couldn't wait to get out there in the morning, as I had heard legendary tales of the fun to be had. After a good night's rest, we were out at first light and although the day started off calm, the winds picked up shortly after launch. That said, the Cristobal was rigged and ready with a drop shot on board, sporting a shorter 10-12″ leader. We started fan-casting at/past the scattered dark spots we could faintly see through the wind-blown water and began fishing painfully slow. The modded Zonda easily launched the 3/16oz Drop Shot great distances, getting my rig well past the bed(s), allowing me to work the bait back into the sweet spots and wait for those quick strikes. Strikes that we knew would require quick reflexes in order to capitalize upon. Adrenaline pumping, as we watched dark, torpedo-like silhouettes move off of those beds as our baits got close. The shear fun and anxiety of watching those big Bronzebacks circle, lurk and return for vengeance, was almost too much to handle.
Gently twitching the tex-posed 4.5" D.S. bait from our distant vantage point, the Cristobal was ready to impale. The first one to commit was in the 4.5+lb. class and came on a cast about 50-55 ft out. The Sniper FC and the Cristobal, instantly transmitted that strike to my fingertips, which resulted in a quick hook set, allowing the rod and drag stack to do its job, despite multiple runs and leaps. Unfortunately…Bites were further and fewer between than we had hoped for, but solid numbers and quality Smallmouth, to 5+lbs, came aboard for both of us. On the plus side…those steady winds challenged this rod in terms of detecting bites and keeping my bait in the strike zone. I can tell you in all honesty that the Cristobal was more than up for the challenge. I was able to land nearly all of the fish I got a hook into, even at the end of 60+ ft. casts, only dumping a couple.
I did pick up a couple of other combos to try out other offerings when it got real tough that day, and despite putting a few more in the boat with other rigs, I would almost always come back to the Cristobal/Zonda combo somewhat quickly. It was doing what needed to be done in those conditions…it was just the right tool for the job.
Despite the tougher conditions, water temps were rising quickly and we decided to come back later, towards the end of our trip to check back in with these Brownies. After fishing/exploring CDA for a few days (that's a whole other article) we were back at that small gem. Conditions were in our favor with water temps right where they needed to be and light/moderate winds that came and went, on a day I will never forget.
The carnage began early and basically…never ended. Right off the bat, the Cristobal, rigged with a 6" straight tail worm dug into and landed a 5+lb Smallie, that got airborne countless times, before coming aboard. Shortly after that, my best for the day, at 5.31 was on and making multiple strong runs in the clear, shallow water with a leap or two thrown in for good measure. The Cristobal kept her pegged and supplied ample power to turn her when needed, giving me the upper hand, allowing me to put my grubby little paws on her. From then-on, long and short casts to beds and breaks all around us continuously put big, healthy Smallmouth (and Largemouth) in the boat. The Cristobal tossed both a Drop Shot and Neko rig all day…really putting a hurt on those aggressive and even not so aggressive fish. I was able to keep that bait in the strike zone for long periods by utilizing that tip section and imparting very subtle action on my offering, which allowed me the time needed to really piss off some of those more leery fish. At the end of very long casts, that extra length meant I was also able to very accurately work that bait into the sweet spot of small beds and it's spot-on tip/backbone combination capitalized over and over on those quick strikes. Yes, I did have to compensate for the that drift to the left that was occurring on my casts, but in all honesty, it is slight and not something that has caused many issues. This limited edition rod never quit and by the end of a day that we both wished could've gone on forever, we had lost count of how many quality 4.5-5.5 lb. fish were caught, including a new personal best Smallie for Ryan, weighing in at 6.32lbs. Our best 5 went just shy of 26lbs….not too shabby, but what an outstanding challenge/test for this stick. More importantly, what an incredible experience, let-alone, a memory that will last a lifetime.
THE GOOD
Spiral wrap, love it or hate it…personally it's a plus for me.
This rod can easily handle the lightest baits I will ever fish very nicely.
The 7'2" Length allows me to make longer casts in the often clear waters I fish.
The 7'2" Length provides the ability to take up line on hook sets and effectively fish anything from shallow to deeper waters, both up close and far away.
Does a great job of keeping rigs from getting deeply embedded in more "challenging" structure such as chunk rock and brush.
Aesthetics that truly stand out from the crowd.
Despite the light tip section, this rod has a VERY capable backbone section that will allow you to drive a hook home from good distances away, even with that alleged "ML" designation.
Sensitivity is on point.
THE BAD
Some of the other minor "issues" with this rod I encountered include the the small modified trigger on the Fuji PTS seat, which I actually really like the idea of, but with such large hands, it feels almost "unsafe" in mine. A little more material on that trigger would be preferred, but dammit, it is sexy.
Price and availability are the other two things to consider. Only 50 units produced…Tough to get. Many of the rods we will be/are reviewing are from smaller, more obscure brands that are often very expensive, limited in quantities and/or not offered at many places. The Cristobal limited is all of those.
Need to adjust my casts due to what I think is the acid wrap and my casting mechanics causing my rigs to land to the left of my intended targets.
Priced well into the upper end of the spectrum.
IN CLOSING…
After all this time, the Sedition Cristobal Ltd. has proven itself beautifully and is a rod that I now have an incredible amount of confidence in. You know how it feels when a piece of your gear just works for you…almost to the point that you don't ever see yourself trying to find something new to replace it? Kinda like that old T-shirt, a lure or tools that you cherish?….Yeah, you know what I'm talking about. Well, this rod is the equivalent to those things. Is it perfect?…nothing is and it has a couple of smaller shortcomings in my eyes, but they are easily outweighed by the shear amount of fun this rod has been to fish. I've enjoyed it so much that I had to acquire a second one to have as a backup. The other problem is that I'm obsessed with trying new gear – almost never satisfied and I'll always be on the hunt for something better. It's just who I am. But until then…The Cristobal Ltd. is "The One" in this small, almost niche class of sticks. It's not going to be easy to find, but I will say this…Hunt one down and grab it, if you can. It's a rod that truly does stand out in a sea of tackle monotony we swim through every year.