SEDITION
SEDITION: se'diSH(e)n NOUN — Conduct or speech inciting people to rebel against the authority of a state or monarch.
RODS THAT CALL FOR AN UPRISING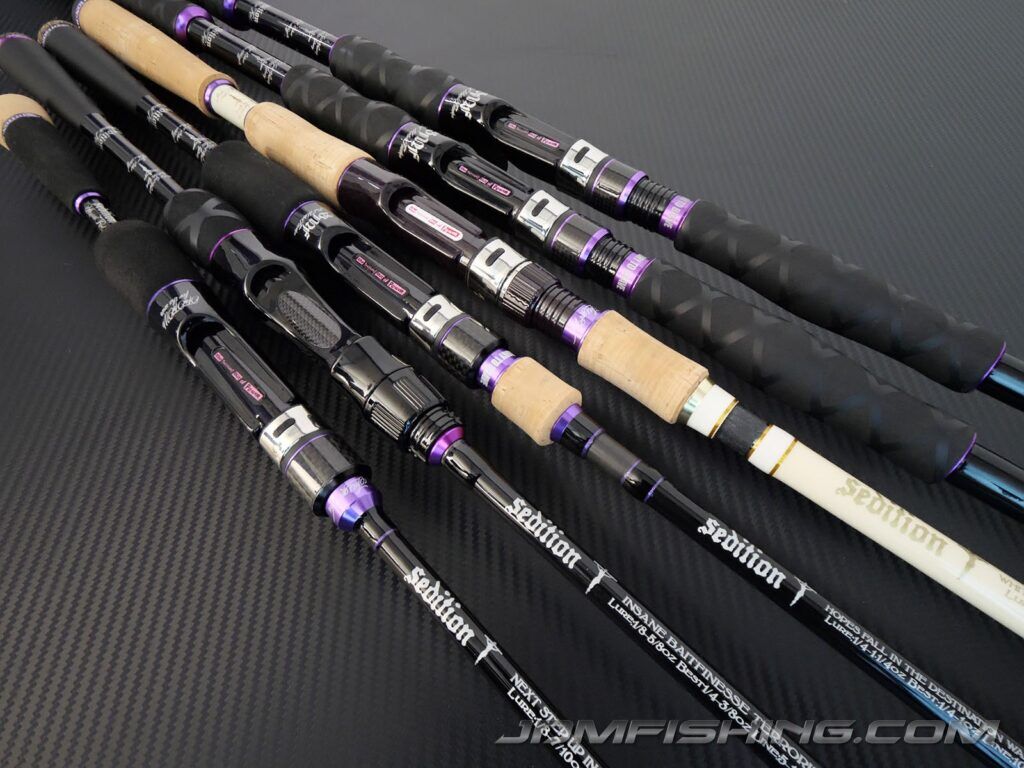 From left to right:
Bloody SDC-605MMR
Cristobal Ltd. SDC-702ML
Hooligan SDC-609HR
White Falcon SDC-700MG
Lion Heart SDC-708XXXXH
With so many rod manufacturers out there today, it's tough to stand out from the crowd. Well…enter Sedition. Many of you may not have heard of Sedition…yet, and that's to be expected as this unique, up-and-coming JDM rod manufacturer is one of the newer companies on the scene. Sedition was founded by Sendo, one of two brothers that were formerly employed at Gan Craft, and this new rod manufacturer really stands out by producing sticks that rebel against the often recycled, and sometimes stale ideas that we see coming from this industry. After discovering Sedition some years back, hours of scouring resources for info and availability, has led to some (actually, lots of) blind-faith buying. Over the course of the past year, JDMfishing.com has acquired a group of their offerings. With that said, we'd like to offer an initial look at what we have on hand and some product highlights.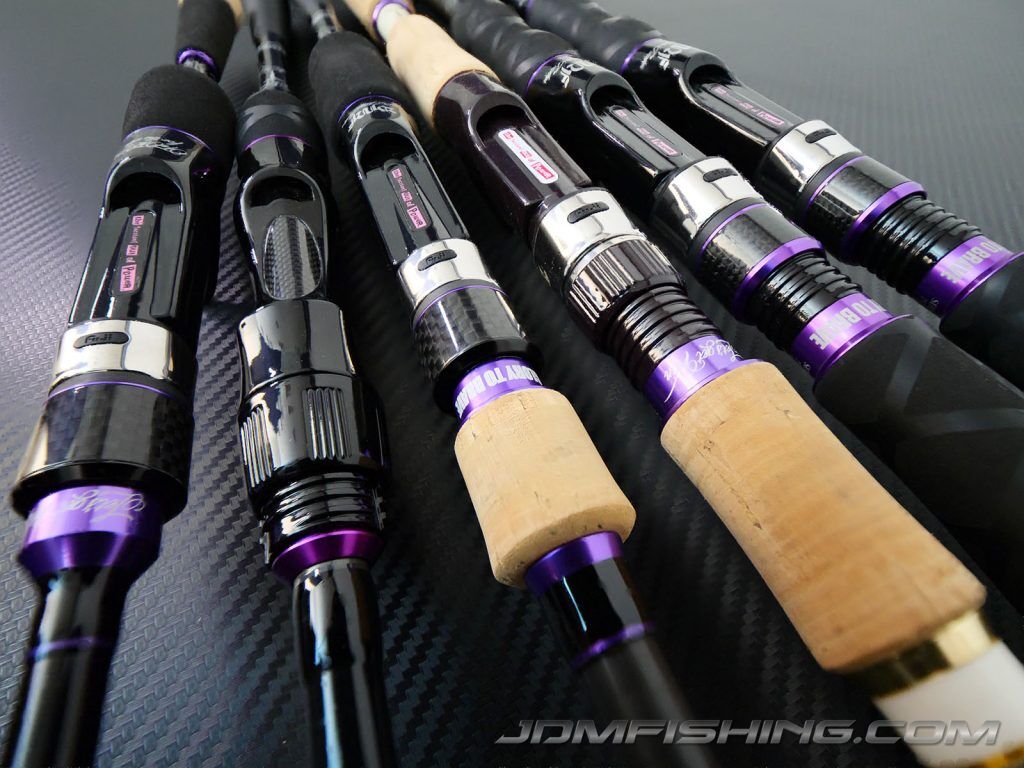 At first glance the purple trim/accents grab your attention, and pull you in for a closer look. Upon further inspection, you'll quickly notice that these builds are far from the norm. Their styling is aggressive and unique to say the least. The slogan "The Factions Out of Power" is displayed on labels across the reel seats (excluding the Ltd. Crisobal) and the "ransom letter" font takes me back to the cover of the Sex Pistols' 'Nevermind the bullocks' album. A silhouette of Christ on the cross is placed next to the Sedition logo on the lower blank section of each rod and in some cases on the butt section between the rear grips. Interesting touch… To add to that…there are plenty of other quotes and/or catchphrases adorning other areas of the rods. Quotes such as "Bad Mother Fucker", "Glory To Brave", "F.T.W." (Traditionally means Fuck the World, but in Seditions case, it stands for "For The Win"), and others. Many of these are laser-etched into the purple anodized trim pieces, or are waterslides on the rod blanks and/or handles. Yes…there is alot going on with these rods in the aesthetics department, and in our opinion, you'll either love em or hate em. Personally, I fall on the side of loving what I've seen so far and since writing this article, new models have been released that we plan on getting our grubby little hands on. While with most other manufacturers, these catch phrases, quotes, etc. can be a little…how should I say this gently…fucking cheesy at times, we feel that they go perfectly with the image that Sedition is conveying. It's great to see something like this that screams, "we really don't give a shit what you think". In my opinion, too many manufacturers play it safe these days, and originality is becoming more and more scarce. Suffice to say, you won't be longing for "something different" when you add a Sedition to your arsenal.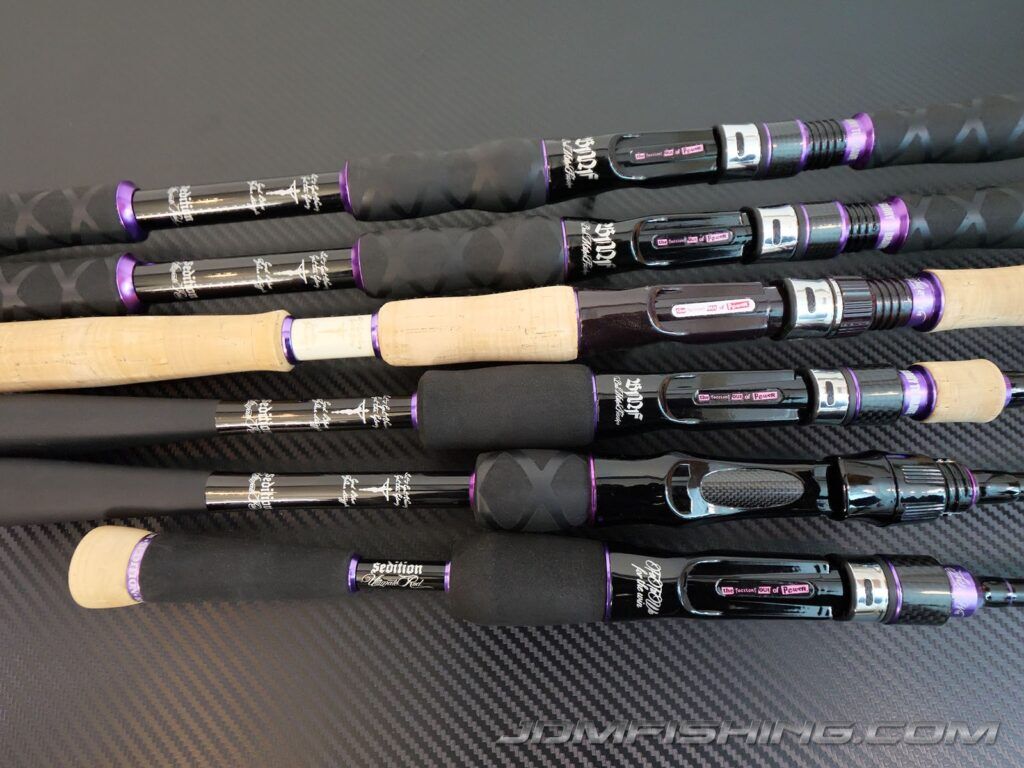 Now…on to what we've acquired so far.
The first Sedition(s) that were purchased were a pair of their big bait sticks, because after grabbing the one, it was obvious to me that wasn't going to be enough. The Lion Heart SDC-708XXXXH sells for roughly 79,200 yen. Not cheap, but the quality is definitely there, and justifies the price in my eyes. It is a 7'8" removable handle rod, with a nice long 25 3/4″, extended main grip/fore grip section. "Something that is often lacking when it comes to JDM big bait sticks". The main grip section of the rod measures in at 15.5″ long, the blank is lined with Torzites, and is possess a taper that made me smile from ear to ear after getting this beast in hand. It's surprisingly light and well balanced for its stature with a soft enough tip to load up beautifully on a cast, but with great power in the backbone section. This very well implemented "dual taper" allows it to adapt to many lure weights, hence the very optimistic ratings of 1/2- 25 oz…..yes, you read that right, 1/2oz – 25oz. Line ratings come in at 16-50 lb. for nylon and 50-100 lb. for PE. Something interesting that Sedition does within their ratings is suggest a "best" lure weight range. For the LionHeart, that suggested range is 2.5-15 oz. Now, will it handle 25 oz. or anything close to that on the upper end? In my opinion, no, but I haven't tried tossing anything in that range, so I can't give you a definite answer…yet. Only more testing will reveal the true capabilities of the rod that initially bought Sedition my attention. Look for a breakdown on this stick in the Big Bait Otaku section of our site, soon.
Next in the group is a very limited production model of the SDC-702ML Cristobal "Insane BaitFinesse Terrorist", which sells for 67,100 yen when new and is a 7'2″ ML(Medium Light) rated rod. Line: 5-12 lb. Lure: 1/8-5/8 oz. Best: 1/4-3/8 oz. This rare stick features an acid/spiral wrap Torzite guide train, gloss black painted Fuji PTS reel seat with a small modified trigger, shortened eva main grip, and monocoque butt section. This rod sports a somewhat fast taper, but once loaded up, bends just a bit more deeply into that backbone, which aids in keeping fish pinned on light line and light wire hooks. The 7'2" length is quite unusual and VERY much welcomed for a JDM rod. Most JDM BFS (Bait Finesse System) rods tend to be shorter to accommodate bank fishing and casting in tight quarters/around brush, next to streams, small waterways, and ponds, which are common in Japan. We at jdmfishing.com often find ourselves wishing for longer versions of existing JDM rod models, and this one satisfies those wishes. Well done, Sedition…well done. This rod is incredibly light, crisp and a blast to fish with. More on this rod soon, in the full write-up.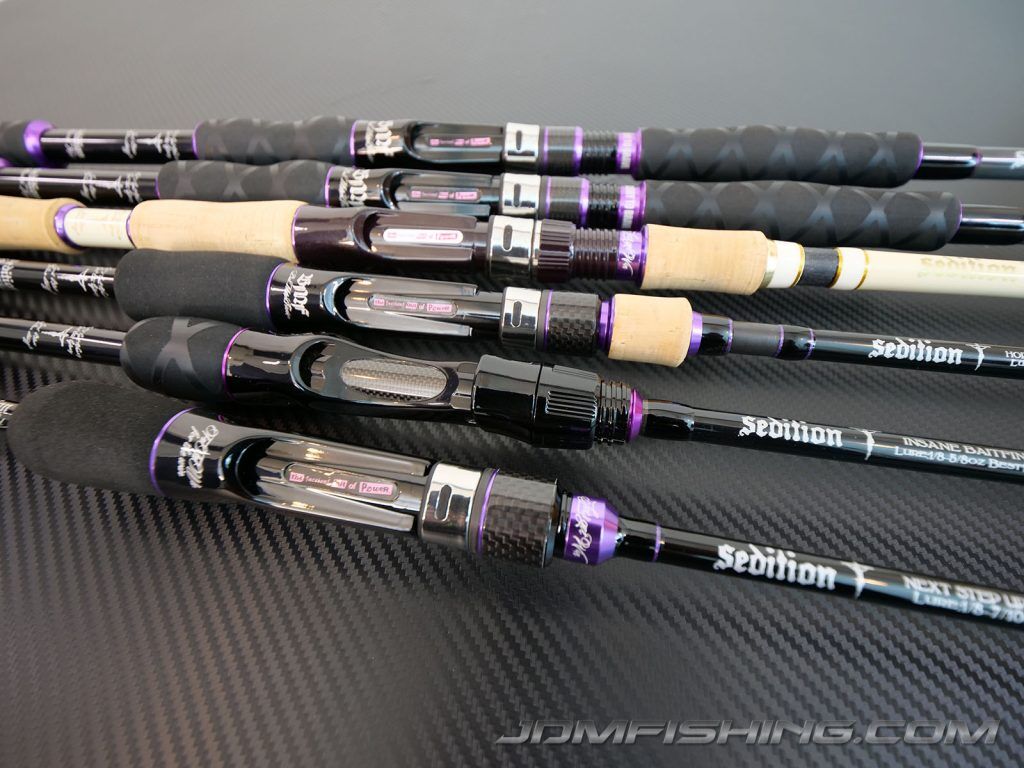 Number 4 in the bunch with a price tag of 66,000 yen, is the medium powered 6'5" SDC-605MMR Bloody "Next step up the body count". Line: 4-14 lb. Lure: 1/8-7/10 oz. Best: 3/16-9/16 oz. This is one piece rod touted for its versatility, with a very unique, short grip section comprised of EVA and a cork butt cap. The grip measures in at 7″ in length, which is definitely on the shorter side. I have not fished this rod yet, as I've got so many in the qué, but after having it in hand and putting it on the taper tester, it does in fact scream versatility to me. I can already see it handling everything from light plastics to small cranks, topwater, smaller jerk baits and so-on. It's so light that that it disappears in your hand when paired with the right reel. I'm definitely looking forward to spending some time with this one.
Number 5 on the list, and selling for 67,100 yen, is another very different, yet elegant stick…the White Falcon 7 SDC-700MG. Line: 10-25 lb. Lure: 1/2-2 oz. Best: 5/16-1 oz. OK…at first glance (because of its white color) you may be thinking…is that a Duckett?…, but this rod couldn't be further from that and it really is in a class by itself. This is Sedition's V2.0 glass cranking rod (V1.0 being the FM 700CMG WHITE SNAKE 7), and it is absolutely stunning. I am personally, usually, not one for glass blanks, or a white…"actually antique white" rod for that matter, but this stick is truly something special in both aesthetics, and function. It's not heavy like most glass rods tend to be, balance is outstanding with a 6.5-7.5 oz. reel on board, and more importantly, it doesn't suffer from the usual "wet noodle" syndrome that plagues most blanks built from the same materials. Don't get me wrong…it is a crank/moving bait stick, and the taper is soft, med-fast/moderate, but it rebounds fairly quickly after a cast, and doesn't feel sloppy like other glass rods I've fished. The power is there along with that great glass-rod ability to keep fish locked onto those treble hooks. Something to note about a good number of the Sedition rods is the unique grip shape. Shaped much like an hourglass, the high quality cork grips of the White Falcon 7 are gorgeous and comfortable. The gold and contrasting purple accents, white guide wraps, and chocolate brown painted Fuji ECS reel seat all come together to form a very original, classy, yet eclectic build. If you're looking for a truly unique moving bait offering, look no further.
Last, but certainly not least, is the rod that has appealed to me most from Sedition since its release not too long ago. At the "measly" cost (insert sarcasm here) of 71,500 yen, the SDC-609HR-BMF "Hooligan" is the company's specialized bottom contact stick, or in Sedition's words…"rubber jig game" rod that weighs in at a respectable 138 grams. Line: 10-25 lb. Lure: 1/4-1 1/4 oz. Best: 1/4-1 oz. To me, aesthetically, this is one damn good-looking build. Measuring in at 6'9" with lure ratings of 1/4-1 1/4 oz. and dubbed "heavy powered", it is a stout rod…period. The taper is very different from any other jig rod I've fished, and the power on tap is not to be taken for granted. This rod is VERY sensitive and has shown me a very different take on a jig rod. More to come on this rod in yet another review that's currently in the works, stay tuned.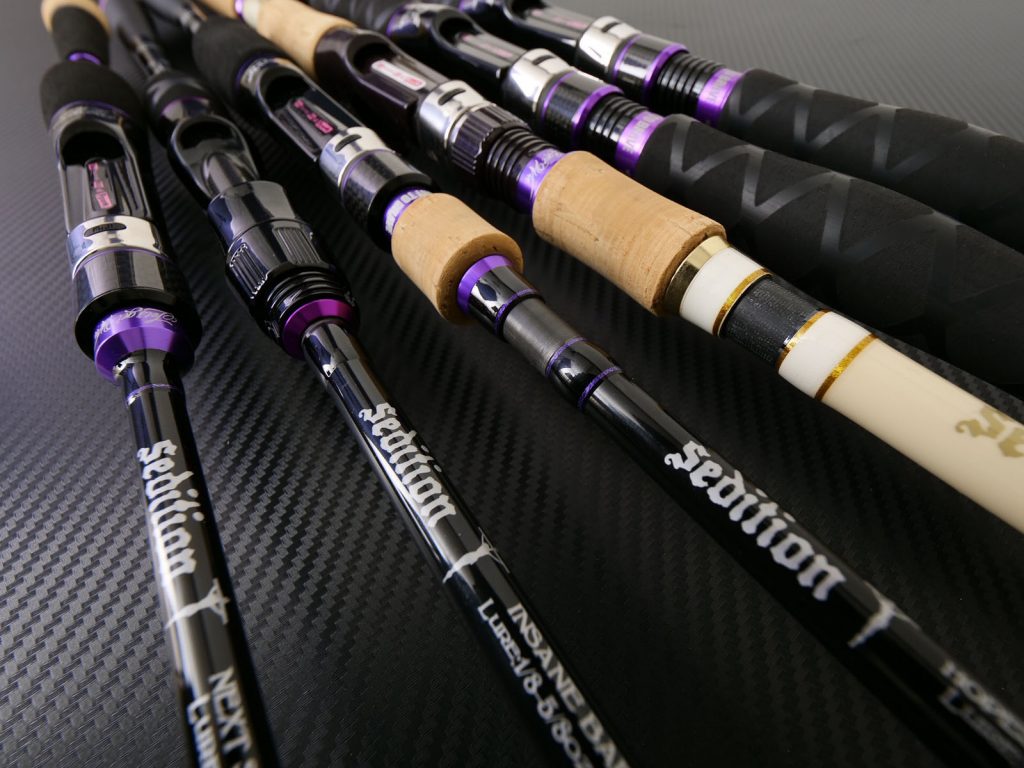 So…With some slick, original model names, a fresh approach to aesthetics, attention to build quality, top shelf components, and attitude that comes screaming through, it's hard to ignore what's going on here. Sedition is making some noise in the JDM market, and we like what we are seeing, hearing, and experiencing with their products. This is what it's all about in our eyes…not following the herd. Being different, being bold and being aggressive isn't something that you see everyday in the fishing industry, but Sedition is doing just that. As with many high end JDM offerings, these rods aren't cheap and you'll have to pay to play, but life is too short, so go ahead…live a little.
The down side…These rods are made in small batches by Sedition, so availability is EXTREMELY limited, and these rods can be tough to acquire. They are out there, if you know where to look. Check out bass.co.jp if you're interested in trying one for yourself.
Please Note…detailed reviews of each model are in the works, so look out for those breakdowns on our site.