EverGreen International's Kaleido Rapid Gunner RSR
A WEAPON TO FILL THE VOID
AESTHETICS
TECH & SPECS
TAPER TESTER
ON THE WATER
SENSITIVITY AND POWER
THE VERDICT
RSR-C70XHX Rapid Gunner RSR
Origin: Japan
Retail Price: 90,000 JPY
Length: 7'0'
Rod Weight: 5.11 ounces
Pieces: 1 piece
Power: Extra Heavy
Lure: 3/8-3 oz
Line: 10-25 lb.
Taper: Fast
Guide Train: Fuji Ti Framed Torzites
Number of Guides: 12
Blank Material: Carbon/Torayca 1100G/Nano Alloy Reinforced
Grip Format: Split Grip
Grip Material: AAA – Grade Champagne Cork & EVA
Reel Seat: Painted Fuji ECS
Recommended Techniques: Texas Rig, Jig, Carolina Rig
JDM Rating: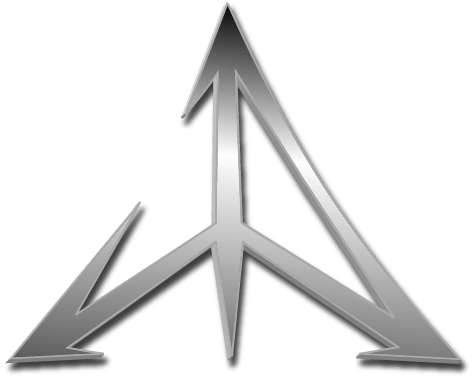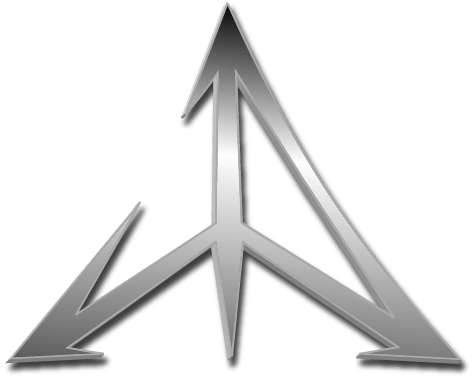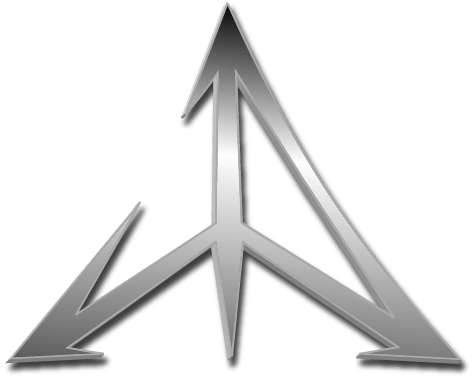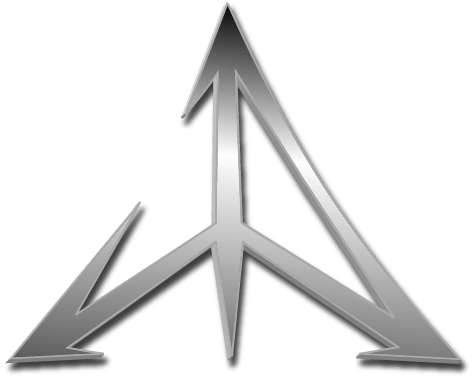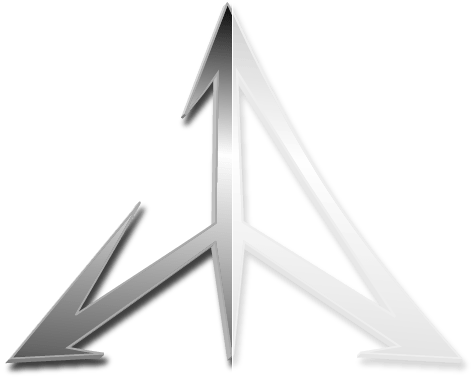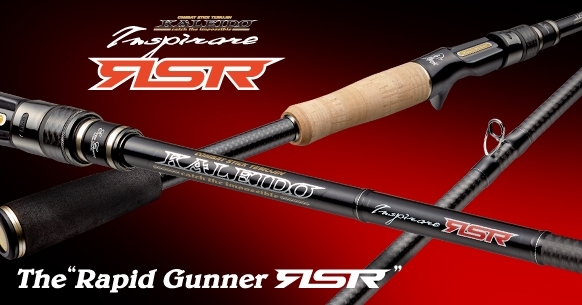 EverGreen International has been in the game for many years, and for good reason. Their products have placed them well within the upper echelon of JDM rod and lure offerings due to outstanding performance, build quality, functionality, and attention to detail.
The past few years have been especially busy for "EG" as they've released many truly outstanding products, including one of their latest creations…the Kaleido Inspirare C70XHX Rapid Gunner RSR. Characteristically, this rod is noted as being an "offspring" of both the TKLC 70XHX Black Gunner, and TKIC-610H Gunslinger. Allegedly, it derives its power from the Black Gunner, and its action/balance from the Gunslinger.
Now…this gorgeous build comes with a hefty 90k JPY price tag (8-900 USD depending on exchange rate), but on paper, this stick is definitely at the top of the food chain, and in my eyes, a welcomed addition to the Kaleido line up. But as always, performance will ultimately determine if it's worth the money. With that said, I've strongly believed the Kaleido Inspirare family of rods has been in dire need of a longer, truly fast tapered, heavy extra heavy powered offering to fill a void that has existed for some time. The Rapid Gunner's close relative, the TKIC-610H Gunslinger is an outstanding bottom contact rod in the Kaleido series, but has always left me wishing for, and wanting a longer version of that model. Evergreen seems to have finally filled this gap.
The Rapid Gunner is one sharp stick, with its clean lines and simple, elegant, yet slightly aggressive styling. A metallic black, painted Fuji ECS seat, multi-axis carbon-wrapped fore nut and a new/revised fore nut winding check, that now sports the EverGreen logo, are just a few of the RSR's styling highlights. AAA grade champagne cork is utilized for the main grip section, while hard EVA makes up the rear grip/butt end of the rod and the Kaleido crest caps it off.
This rod's advanced 7 foot long, Torayca 1100G/ Nano Alloy-infused blank is lined with 12 guides and utilizing this many guides on a 7' blank is something you don't see too often, these days. It's obvious that no corners were cut while designing and building this rod. The 3 doublefoot, 8 single foot semi-micros and flange type tip are all Fuji Tiframed Torzites. As to be expected from EG, the wraps are exceptionally clean, but simply done in black, with silver accents. One of the most note-able features of the RSR is a beautiful multi-axis wrap that runs nearly the entire length of the blank (more on this in a bit) and it's something I'm sure every owner will admire in the sunlight. Rounding it out…Silver, black and gold accents/badging, are tastefully used throughout the build and that bold "RSR" logo adorns the lower section of the blank letting you this is the real deal.
This big red logo is probably the only thing I'd say I'm not 100% satisfied with, as it just looks a bit out of place in my eyes. I know, I KNOW…I'm nitpicking, as it's definitely not horrible by ay means and most of you may not agree, but it just stands out a bit more than I'd prefer. A small detail, yes, but I'd be willing to bet that many enthusiasts, like myself, care about all of the details and not just some.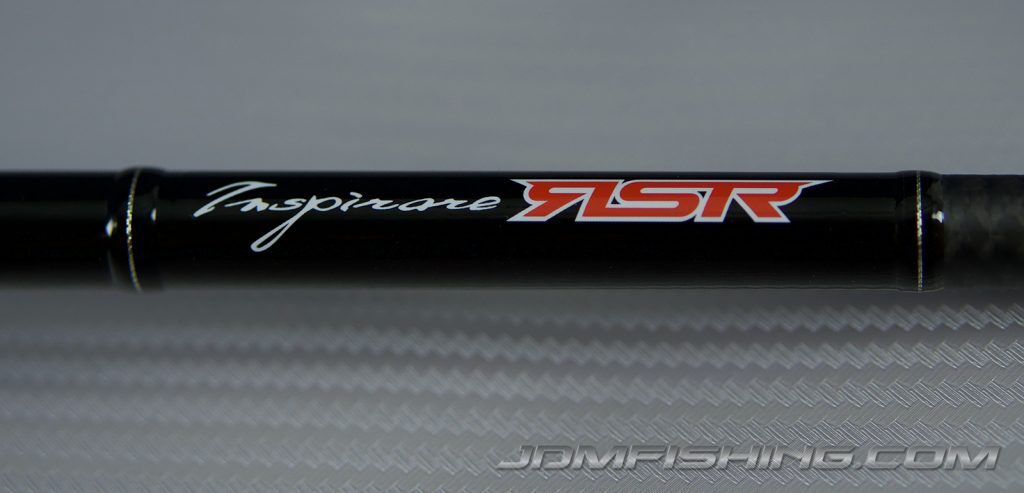 Something I feel needs to be mentioned before I move on is that I am a self-proclaimed bottom contact junkie. It's what I'm best at and it's what I love to do. Don't get me wrong, I am very comfortable utilizing many other techniques that I feel adept at, but I am always ready/willing to cast or pitch and drag, hop, pop, shake, or dead stick something on, or close to the bottom. This fact has lead me on a never-ending, OBSESSIVE search for the very best in sensitivity, strength, ergonomics and many other aspects when it comes to bottom contact sticks. With that said, I've really been looking forward to the Rapid Gunner's release since it was announced last year.
With lure ratings of 3/8 – 3 oz. and line ratings of 10-25 lb test this is a true XH powered rod. Weighing in at a respectable 5.11 ounces, the RSR feels very well balanced, and seems to be solidly built.
Now, I've already touched on the guide train and other aspects of this rod, but let's talk more about this blank. The Rapid Gunner's blank is something to behold and there's obviously a lot that has gone into it. The picture below shows what's involved in building this impressive blank, followed by a more detailed breakdown.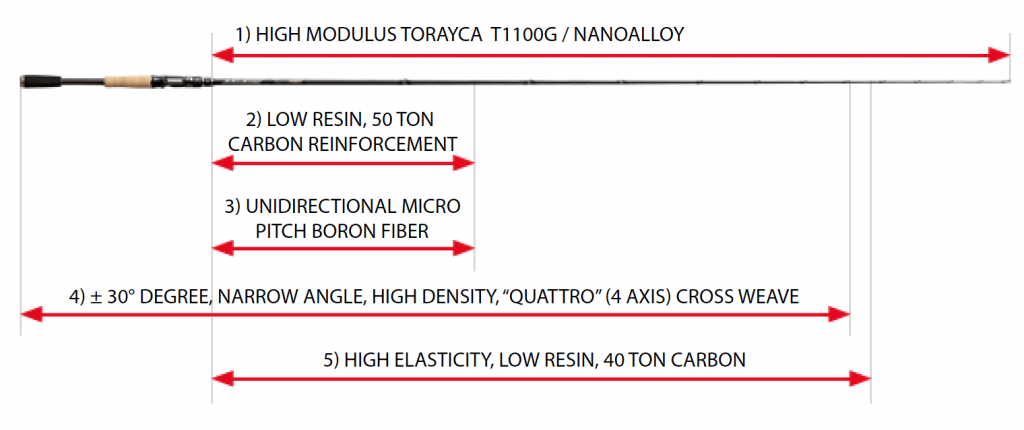 SECTION 1.) From the fore nut to the tip, the Rapid Gunner features a Torayca 1100G/Nano Alloy-infused main shaft. The combination of these ingredients is said to help achieve a slim, lightweight, crisp blank, that also claims to yield amazing strength and power.
SECTION 2.) The section from the fore nut, to between the first and second guide, uses ultra-high elasticity, ultra light weight, low resin, 50 ton carbon as a reinforcement for improved power and rigidity in the lower part of the blank.
SECTION 3.) Throughout the same section as above, EG has also utilized unidirectional, micro pitch Boron fibers to aid in reinforcing the Nanoalloy material that is present in main shaft.
SECTION 4.) On the butt-end of the rod all the way through the top of the mid section (transitioning into the tip area) uses that beautiful ± 30° narrow angle, high density "quattro" (4 axis) cross weave for even more torsional rigidity and strength. This is stated as being a crucial element in this rod's power.
SECTION 5.) Last but not least, High elasticity, low resin, 40-ton carbon is also a big part of the equation, as it runs from the fore nut, into the tip section and aids intensional rigidity.
So…These specs combined with the rated power of the blank and fast taper means that larger T-rigs, jigs and Carolina rigs should be where this stick will shine. That fast taper combined with that XH power should also translate into brutally powerful hook-sets, even with lots of lines out. A long cast into 20-40 feet of water to drag something around equates to the fact that I rely on a fast tip, power, and plenty of sensitivity to paint a clear picture of what's going on deep below. The right tip-mid section transition is also crucial in these situations as it will allow for imparting action on your offering and for solid casting abilities. And again, that fast transition into backbone will help get a hook into at fish's jaw much more quickly and with authority than a slower taper would.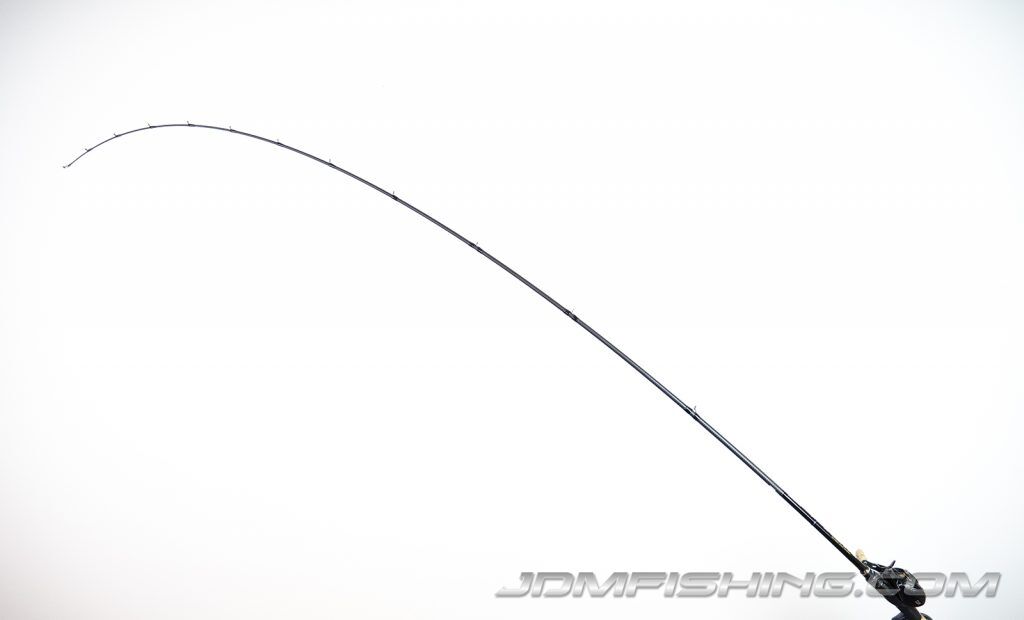 This is a must-have type of rod for myself and anyone that fishes a lot of deeper, offshore structure, but don't get me wrong… throughout these past months the Rapid Gunner RSR has also proven itself an extremely capable rod for shallow water situations as well.
They say a picture speaks a thousand words…
The "Taper Tester" clearly illustrates that the Rapid Gunner indeed sports (what we consider to be) a true, fast taper and is also equipped with something special. Notice in the picture below how the blank transitions from that 4 axis cross weave, back to the T1100G/Nanoalloy main shaft for the last 13 3/4" of its length and you'll see what I'm talking about. EverGreen utilizes that Quattro-axis wrap almost all the way up the blank until it reaches that upper section and then ends, thus, creating that special tip section I've mentioned. This is similar in looks, to a solid tip build, but without the solid tip.
The tip, being the tubular main shaft, is lighter in power than the rest of the blank due to the multitude of reinforcement that ends at this section of the rod. That transition from the reinforcement to the main shaft/tip section is what also helps give this rod its fast taper and great casting abilities. In our eyes, this build characteristic, and of course, the material used should greatly help in the sensitivity department.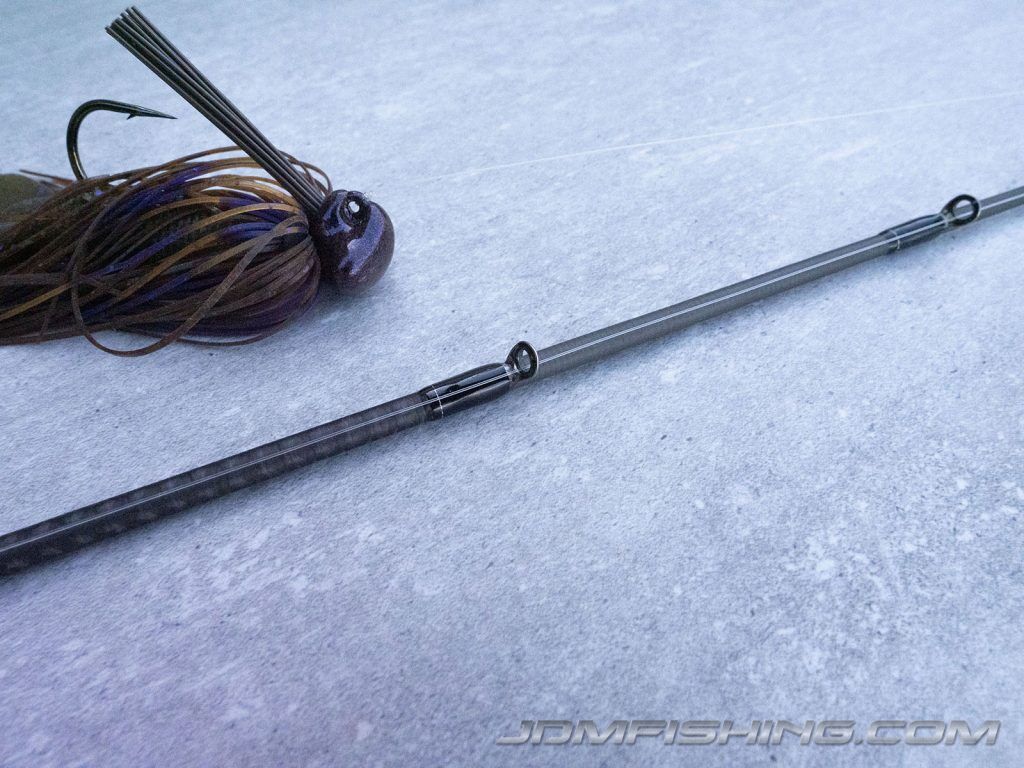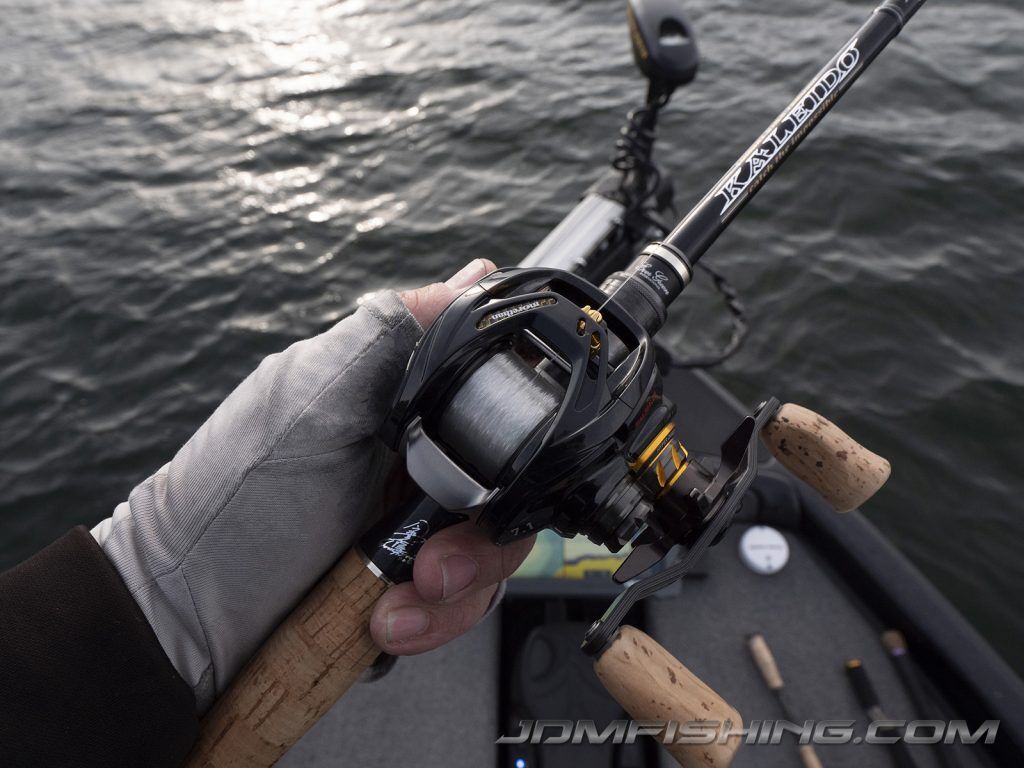 For my testing, the Rapid Gunner has been paired with a 2019 Daiwa Morethan PE 1000-TW that has been fitted with a 90mm I'ze Factory carbon fiber handle, and a set of Daiwa original cork knobs. The rest of the reel has been left stock. Balance with this reel on board is superb, and aesthetically…they look gorgeous together. After sealing the AAA-grade champagne cork with some U-40, and spooling up the Morethan with some 12lb. Sunline Shooter, it was time to get out on the water and put it through some tests.
First to be rigged up was a 1/2 ounce custom, jig, and 4" Keitech Crazy Flapper trailer bringing the total weight to about 7/8 oz. That first cast usually tells you a lot about a rod, and that was definitely the case here. Casting performance with this weight was impressive and I was able to get plenty of distance from a sharp overhand cast with a release time of about "1:30-2:00". That unique tip section loads up very well and with absolutely no lag in return. Long casts into deeper water…no problem. Some sidearm casting yielded great results as well, but as to be expected, some adjustment in release time is needed and this will obviously vary with different weights being tied on. Hard roll casting was easily done with the jig and trailer combo and I was able to accurately hit my targets with ease. As expected, moving down to 1/2 oz. didn't allow for the rod to load up quite as well, but still yielded very acceptable results. On a side note, I was very impressed with how the 2019 Morethan was performing with fluorocarbon spooled onto it, even though it's touted as being a PE-oriented reel/tune, but that's another review in itself.
When I moved down to 1/4 oz tungsten, with a heavy 10" worm, I was also impressed, got very solid casting distance out of the setup, and really enjoyed fishing this rig on the Rapid Gunner. A 1/4 oz. Jig and small craw trailer are where things started to roll off and resulted in much poorer results in all three types of casts I just mentioned, but it was still capable of doing so if needed. Pitching with this combo, utilizing 1/2 oz and heavier weights were very much enjoyable/do-able, and this stick has the power to get fish out of cover, although, I own other rods that I favor for those duties. Just know that if you're also thinking about this stick to double for shallow water or pitching duties, I don't think you'd be disappointed, at all.
On the upper end of this rod's ratings, I needed to re-spool, tie on other baits and do some test casting to see where it would start to "give in". 40 lb. Daiwa Samurai Braid, a 1 oz. Eco Pro punch weight, Revenge punch skirt, and 4" Yamamoto Flappin Hawg was a pleasure to pitch, and roll-cast around heavy cover. I felt very comfortable doing so, but more often than not, prefer a slower taper and slightly longer rod for close range, heavy cover situations. So…this rod wouldn't be my first choice in these scenarios. Next, I tied on a Deps Bullshooter Jr (2.25 oz.) to see if the Rapid gunner could handle it, but unfortunately, the rod felt a tad overloaded while casting this weight. I found myself being much more "cautious" while casting the swimbait, and not feeling too comfortable doing so with this stick, although it felt good on the retrieve. With that said, I also prefer a rod with a slower taper while tossing trebles. To sum it up, 1/2 – 2.0 oz. is where the Rapid Gunner feels most comfortable and capable in my hands, but it can go higher if need-be.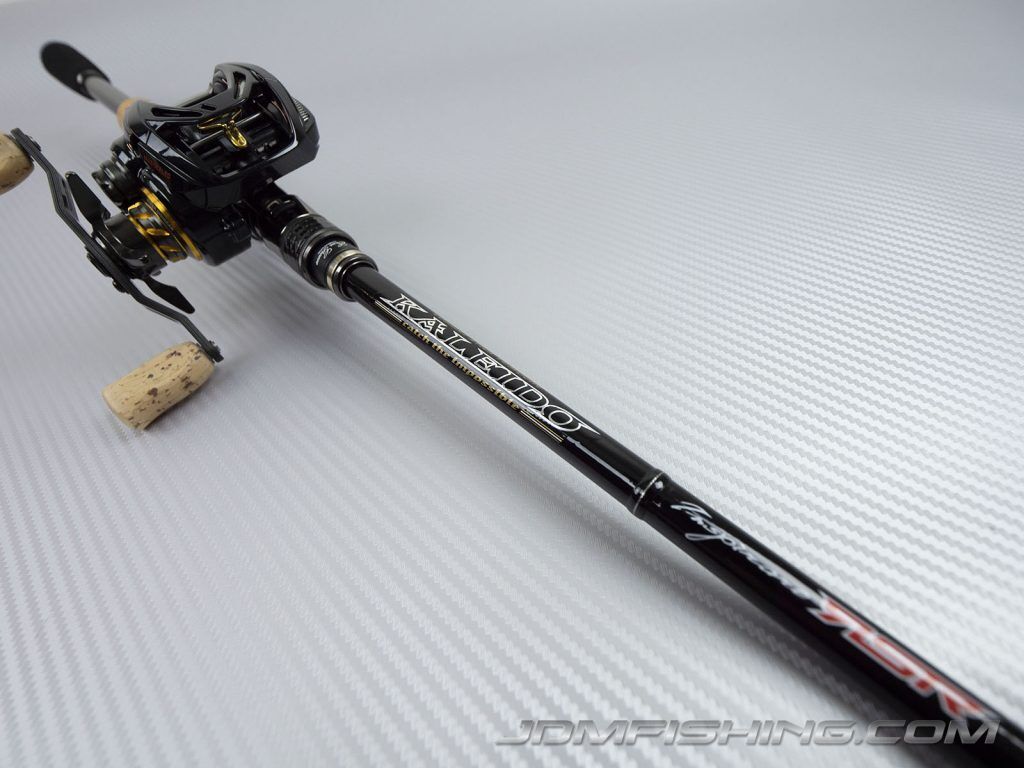 So let's back up a bit…After making that first cast with that 1/2 oz. lead-head Jig & Trailer out to 30+ft. of water, I was anxious and hopeful that what I would feel after touchdown would be "better than average" in the sensitivity department. What happened shortly after that first cast was what I had anticipated and more. Quite simply…this rod is so crisp and sensitive, that I mistook my jig hitting the bottom for a fish engulfing my bait on the drop, and found myself swinging for the fence. Now, …this happens to us all…right?… HA! Could I have just been too wound up with anticipation at that point?… Guilty as charged. After looking like a complete idiot and swinging at nothing, my buddy chuckled and asked me "did you get that one?"… I turned around, laughed, mumbled some terms of endearment, reeled in the slackline, and began my slow, dragging retrieve. At this point, I liked what I was feeling, so much, that I thought to myself…"If this rod was doing this well with lead tied on, I can't wait to see what it feels like with tungsten on the end of my line". So after about an hour of picking apart various types of cover and structure around me (and maybe one or two more false alarms…), I switched it up and tied on a 1/4 oz tungsten bullet weight and T-rigged 10" worm. I comfortably made a long cast from the shallow water flat I was on, out off of a break I was fishing and began my retrieve in about 20 feet of water, working my rig uphill. As expected, things were even better with that tungsten tied on and I could very clearly feel/"see" that transition from soft-bottom/ sparse brush, onto the harder, rocky flat I was posted upon. The detail this rod was transmitting was absolutely outstanding. It was still early on in testing, but it was already safe to say that I was already in love with the Rapid Gunner. When it comes to sensitivity, this rod is so capable of transmitting a clear picture of bottom composition, that I was truly enjoying every second of it…and…It wasn't long before I had a bite that felt like someone had smashed my bait with a hammer. I reeled down and swung hard, so hard that the combo was almost ripped from my hand, as that fast tip and backbone had done its job almost too well. I obviously wasn't prepared for the power of this rod and it felt like I had set the hook on a brick. After it broke the surface, I realized it wasn't one of the larger fish we had been catching that day and the Rapid Gunner was easily able to manhandle the 3.5-ish lb fish. It was a good initial test for the rod but more importantly, this first fished revealed just how much power this rod has and trust me when I tell you…it's got PLENTY. I quickly brought the victim in, admired it, released it and made another cast within close proximity of where I caught the last one.
Within seconds, on the drop, another fish had engulfed my worm and I repeated the process with the slightly smaller catch. At that point, I was so high on adrenaline and the sheer fun I was having with this combo, that it had put an ear-to-ear grin on my face (not present in the pic below 😉 ). Simply put, I was impressed…VERY impressed. When it comes to relaying information from the other end of the line about bottom composition and/or bites, everything is directly transmitted through that special main shaft, into to the user's fingertips at the other end and done so with great detail. Couple that with the power this rod possesses and you've got yourself a winner in my book. Several months and many fish later, this setup has been in my hands more than it should be. I've caught myself picking it up in situations that I have no business doing so…it's that much fun.
It needs to be emphasized. This Rapid Gunner T1100G/Nanoalloy-infused blank is something truly special and it's something you'll have to experience to understand. The Quattro axis cross weave, the build quality, the balance with the 2019 Morethan (or something similar in weight/size), the crispness, the power, that tip…*insert angelic tones here*… They all come together in a package that is, as of now, my favorite stick for heavy bottom contact duties.
After plenty of time on the water with this elegant beast, the Rapid Gunner has proven itself quickly and sits near the top of the list when it comes to the best I own and have had the pleasure to fish with. Yet…It's a rod that also makes me (again) wish EverGreen made another, slightly lighter powered, slightly longer version, so badly, that it hurts! Regardless…This is what a bottom contact rod should be in my book and I hope Evergreen is listening when we say…"PLEASE make a 7'3'-7'5" MH+H version of this rod!!"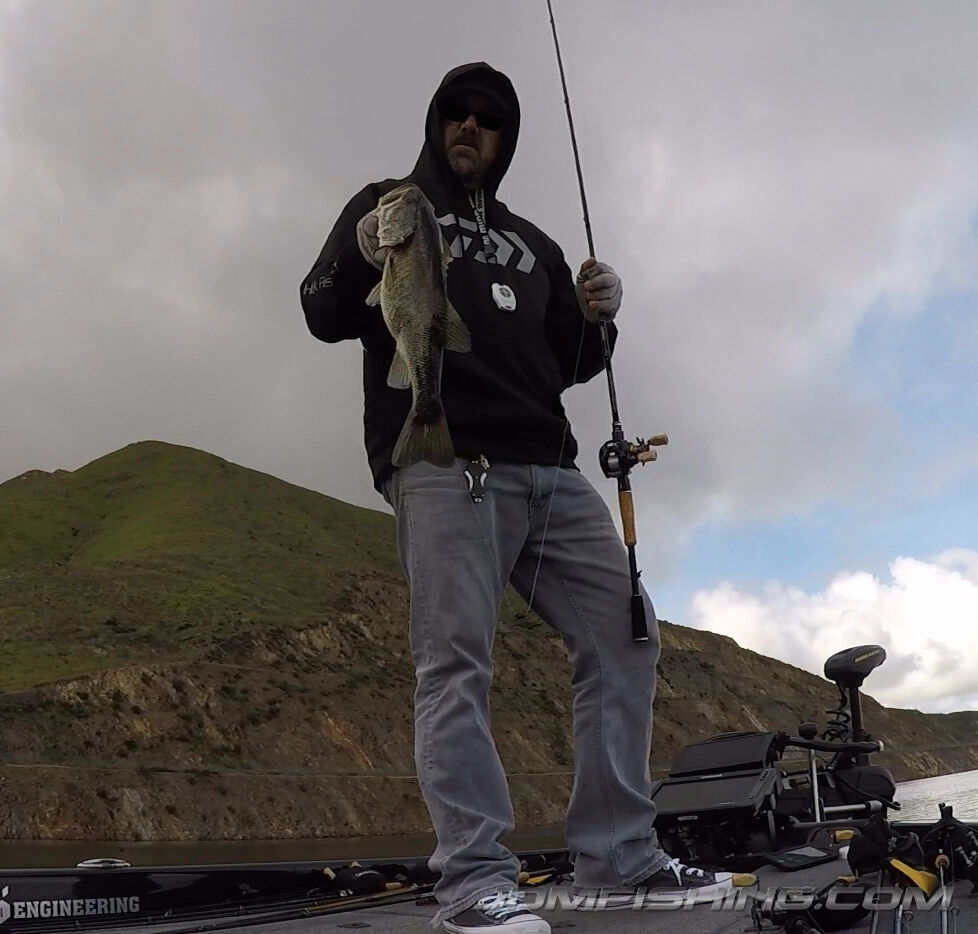 We strongly feel the JDM Market is lacking in this area and when it comes to of top-of-the-line offerings, and in general, I personally would love to see a few more longer, true fast tapered, bottom contact rods produced by JDM manufacturers. As for EverGreen…Perhaps a "SUPER GUNNER" is in order? Well…We can always dream, right?
Now this rod is not cheap, and at a retail price of 90K JPY (around 8-900.00 USD depending on the exchange rate), it's a rod that that for many needs to be justified by its capabilities/performance. Many fellow enthusiasts, may be looking at, or considering this rod, and are probably wondering if it does just that.
"Can a rod truly justify a price tag like this?"
Honestly, it has left me without a single regret and I'm plan to get a ton of use out of this stick. It fills a void and does it so well that I don't see myself looking for something to replace it with for some time to come. If you have the means and these applications are ones that you often utilize, I can wholeheartedly recommend this rod and I do it with that huge grin on my face. Trust me, you won't feel under-gunned…
– RISE