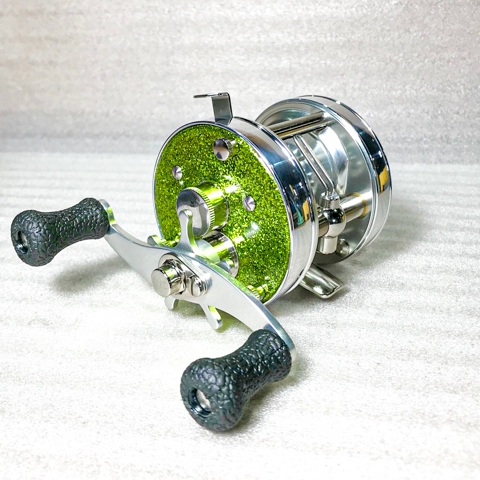 Candy Glitter / Bright Green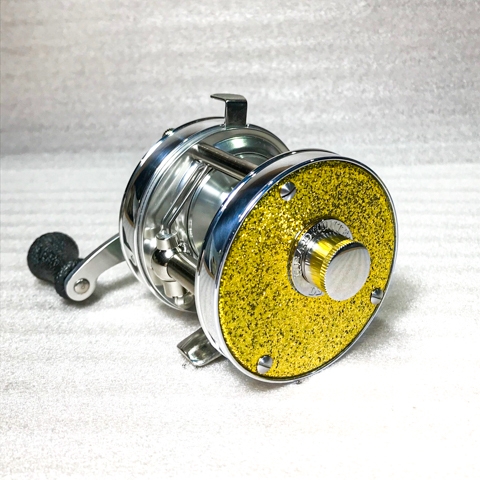 Candy Glitter / Gold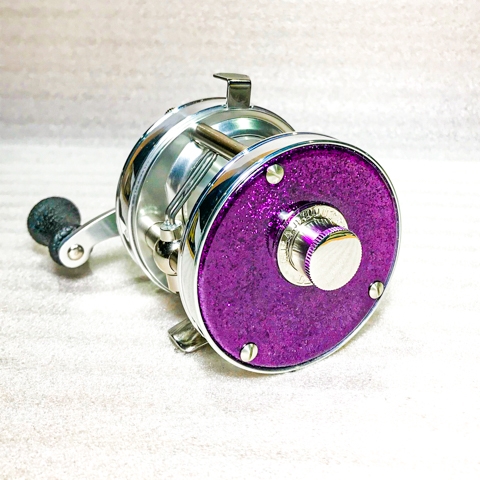 Glitter Candy Glitter / Banana Purple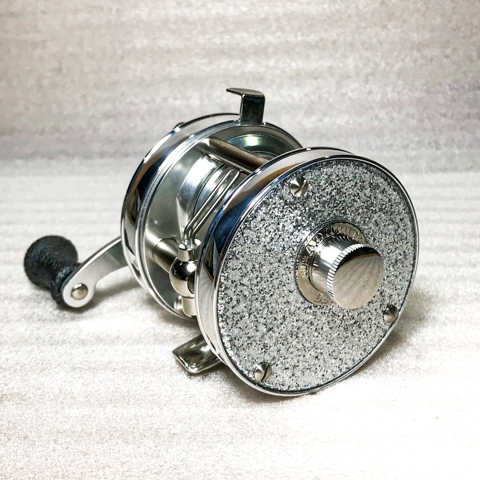 Candy Glitter / Silver Jet
GEAR RATIO: 5.1, NMB "Fine Drive Bearing * 5"
DRAG MAX 1.5, CAM STOPPER,
Line Guide Constant Tuning
WEIGHT, 280g, SPOOL diameter 38mm. FRAME (between covers) 56mm.
Low center of gravity design
CAPACITY 105M / PE40LBS, 80M / PE50LBS,
SPEED SLIDER SPECIAL structure<What is Isuzu vintage style reel? >
At Isuzu, reel sizes are expressed in hundreds. The 400s are ABU's 1500-2500s, 600's are ABU's 4000s and 700's are the same size as ABU's 5000s. BC stands for baitcasting and SSS stands for Speed ​​Slider Special. The SSS is designed with "smooth and light parts drive" equipped with five bearings. Some models do not have bearings. This is a manifestation of Isuzu's craftsmanship that "it is not easy to throw anything just because the bearing is included", dare to synchronize the level winder with the spool, the rotation speed of the spool during casting Together with the "Vintage Style Brake" that synchronizes with the emission of the line, it becomes an important "Kita of taste" that the Isuzu users want to understand. The concept of a brake that reduces the number of revolutions by making the level winder resistant while "the parts drive smoothly and lightly" created by SSS. This eliminates the need for excessive summing, resulting in "moderately spinning" casting, resulting in "flying well", "easy to use" and "vintage style reels". Similar meanings apply to body size. It's not good because it's big and good because it's small. Furthermore, please enjoy the "creative new values" created by smart playfulness in each size vintage even if it is not the right person in the right place. It's your pragger and angler who directs the reels!* What is NMB's "Fine Drive Bearing?"-The world's largest share of small-diameter and miniature-sized ball bearings with a diameter of 22 mm or less, NMB (Nippon Miniature Bearing). It is also one of the Nikkei 225 brands composed of large companies that have an influence on the determination of the Nikkei Stock
Average.ISUZU is selected from a number of reel manufacturers and collaborated to produce miniature bearings exclusively for reels. Develop your smoothness, strength and rotation.
What is ISUZU CO.
————————————————– ——————
~ Excerpt from ISUZU President's blog without permission ~"Beginning ofISUZU and fishing for over 60 years" ISUZU and fishing met in 1952 It starts with the second fishing reel designed in Japan after the war.
Before that, he worked on precision parts such as military communication equipment and watches,
so it was not a playful fishing enthusiast or small hand comfort, but
a Western brand that asked for technical skills as an industrial manufacturer. I can say that was.
My family is
an industrial family of the same history as the modern industry, starting in the Meiji era when my great-grandfather worked at an army arsenal .
"" A "TO" Z "" When
ISUZU entered the fishing industry,
fishing REELs and fishing using them in the West were still in their infancy.
And also,
in the FISHING of the West, also that there has been an attraction that different "culture" is the East of fishing, we have heard.
For example, "FLY REEL", which uses only a spool in SIMPLE, is difficult to tell from the current "efficiency that can be caught".
For that reason, FLY REEL is one type of fishing that is not well understood in the East.
But why RUGBY BALL is an ellipse,
GOLF is the same as why you would be happy to put BALL in the hole, and if
it is, "It's a GAME STYLE called FLY fishing", you can easily get an explanation.
"Let's learn fishing as a western culture rather than talking about western fishing with Japanese interpretation."
STANCE was favored by a long-established family of western fishing BLAND, and it has been
a long-established western for half a century. Is an
unusual career with a close relationship as a development coordinator rather than a subcontractor, and has not been listed as BLAND for a long time.
However, "A" to "Z" at the beginning, which means "from ABU to ZEBCO".
It is said that it has been with many Western
BLANDs, and I think that it is the world's oldest GEARD REEL MAKER in the sense that the long-established BLAND OWNER has released BLAND and the same OWNER clan as at the time.
Also,
it may have become one of the few BLANDs in the world , purely conveying Western fishing at the time.
"The beginning of an old and new REEL culture from Japan" After
the long-established western land of BLAND or the center of fishing gear production moved to China, etc.,
contrary to the world, in Japan, old fishing enjoyment A small movement takes place.
The word "MACHINE" is used in the current REEL to describe its efficiency, but as described
above, "FLY REEL" is no longer "REEL".
"Let's think about REEL = GAME TOOL again from ZERO." In
2000, ISUZU started such development with FASHION DESIGNER BLAND of Milan collection.
What became BASE is the mold of an old BAIT REEL that was left in Japan by a long-established MAKER DAM in Germany.
Instead of just playing it back, we will
use MACHINING CENTER for the necessary parts and try to revive it with modern Japanese precision.
When I tried to use it, I could see an interesting play where I could experience the interaction with fish in SOLID.
Even if I saw ISUZU as a PRO, it really made sense, and
"REAL was originally created with this kind of play style in mind, and
couldn't be realized with the processing technology at that time ?" It was fun.
"Fun,
cooler !" The FASHION DESIGNER and traditional Japanese crafts also cooperated, wonderful fishing grew up in the ARTIFICIAL, used in the Milan collection,
and became related to the Akiba industry. In the sense of the texture of the tools,
it has been evaluated in other worlds.
Of course, even in Japan, the main thing now is, "I just want to catch fish, whatever."
Japanese fishing magazines haven't been featured much, and of course, they haven't been seen in the world.
However, in Japan, "easy and long fishing style", "FASIONABLE cool fishing",
Spreading word-of-mouth, I think that ISUZU can be said to be the central BLAND of its fishing now. Before World War II
"BC SERIES"
, Germany was home to REEL MAKER, one of the most prestigious in the world. There is an anecdote that the US AIR FORCE came to Germany to bomb during the
DAM
war, but did not bomb the location of the factory
.
Now, like other Western BLAND, OWNER has changed and it is close to BLAND only, but
just like BENZ and BMW, MAKER has an industrially-reasonable and wonderful design, and
its real DAM However, the old BAIT REEL mold left in Japan was BASE-
REFINED at the beginning of BC SERIES.
Even now, some dies have been used as they were at the time, from the perspective of basic designers.
It is an old structure style, so if you use it, you need to take care of it from time to time,
but it also invites more serious anglers, and in Japan
it has been a long seller for 15 years .
Although it has a traditional appearance, the precision and strength are modern Japanese standards, the
strengthened model 710 / 810HD is equipped with DRAG comparable to the latest Iso REEL,
while having a built-up FRAME structure , Has enough durability.
Also, in COSMETIC,
Titanium coating, black rhodium plating, and adopting the same manufacturer as luxury wristwatches, adopting
genuine traditional Japanese crafts, overflowing with CRAFTMAN SHIP,
it is a workmanship that satisfies OWNER's satisfaction.
"Current President (I)"
The third generation OWNER of ISUZU, a director of the Japan Fishing Goods Association, and
one of the advocates of TRAD GAME in Japan.
Starting a reel factory overseas, nurturing new fishing,
starting a BLAND , etc …. It
can be said that "raised in the field" is one of the few Japanese workers of the same generation who came from scratch, almost alone. Maybe.