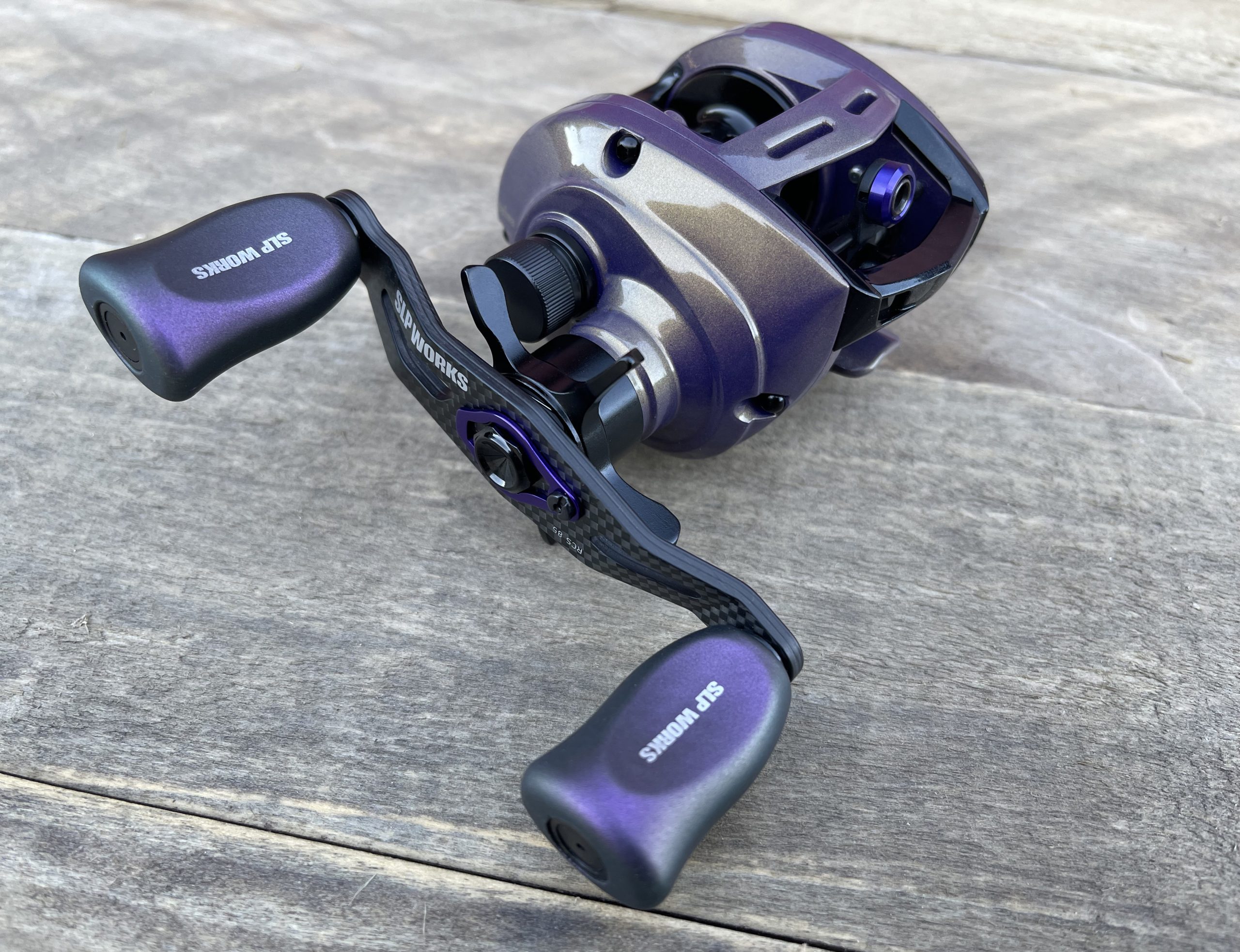 AN OG ALPHAS 103 GETS A FULL MAKEOVER
Once upon a time, the original Alphas 103 with was a dime a dozen. Today…not so much. These gorgeous little tanks represent a high watermark in both Daiwa's lineage and bait-casting reel history. The Alphas platform is legendary and still going strong today, but…it's those reels of yesteryear that hold very special places in most enthusiast's hearts. The 103 is no exception. That unique color shifting paint, the stout smaller frame/profile and outstanding versatility made it a staple in most fishermen's quivers. I still fish quite a few of mine quite regularly, but this one has created an internal Tug-O'-War.
Today, these gems are tough to come by, especially in minty or new condition. When I grabbed this NIB specimen, I had planned on leaving it stock, but the Tackle Gorilla on my back had other plans and eventually, I caved in. With so many ideas running through my head, along with all the tuning and dress up options out there, it's pretty much impossible for me to leave most reels I own stock. This is the reason why I'll buy two of whatever, whenever possible…so that I can mod one and have an original in the stable.
That said, I had big plans for this beautiful specimen. I had mapped this build out over the course of a few weeks and even though the Alphas platform makes for great finesse reel builds, I decided I'd go in the opposite direction. An iteration sporting a deeper spool with solid capacity, tuned for long casts on heavier line, and a higher speed, yet versatile gear ratio was the plan.
So it began…The list of mods is as follows:
7.2:1 Daiwa Brass Gear set
Carbontex Drag Stack
Polished Drag Washers
Alphas CT Drive Shaft
YT Fusion Hyper HD+ Bearings
High Speed Level Wind and Bearing
Alphas CT Nose Piece
Zonda 68 Line Guide
Zonda 68 Spool w/Tuned Inductor
Avail Clicking Drag Star
SLP Works 85mm CF Handle
SLP Works Semi Order Purple Color Shift Knobs
Black Megabass Knob Caps
Steez SV TW Handle Bolt
Steez SV TW Purple Retainer
Hedgehog Studios Black Screw Set
Cerakote Retainer Screw
Cerakote Cast Control Collar
Cerakote Cast Control Cap
Cerakote Mag Dial Screw
Cerakote HLC Mag Dial with Purple Backplate
Cerakote Thumb Bar
Cerakote Line Guide Screw
Cerakote Pawl Cap
The complete tear down, cleaning/flushing and rebuild took the better part of two days, with the inductor tuning being the most time consuming, as I went through several spacer/spring combinations. I finally got the Zonda spool dialed in just the way I wanted, with a slightly faster braking profile that requires very little effort to toss baits 1/4oz and up. She's easily capable of launching 3/8-1/2oz rigs great distances, but also has just enough control to very nicely handle roll casting at targets and long pitches into/around cover without getting too crazy. The most minute changes really do have big impacts on reels, especially when it comes to braking/inductor tuning.
Aesthetically…as you can see, I prefer a very "balanced" look when it comes to carrying color(s) or themes through my projects. The Purple accents in this build had to be executed just right, or else my OCD would've gone apeshit. That meant just a bit of purple flowing through, from the gear side plate to the palming side.
Starting with the SLP Works Semi Order knobs that (in person) are an incredible match for the factory paint, I worked my way across adding the Purple Steez retainer onto the handle. The Zonda 68 spool with its purple inductor that peeks through the porting and Zonda line guide were next and bring just a touch of color into the center, followed by the finishing touch. The ported Daiwa HLC mag dial screw with its purple anodized back plate sets off that palm side, really bringing it all together. It truly is all about the details for me and this one checks off all the boxes.
The only problem I'm having is not wanting to take it back off the shelf, as it's one of my favorite builds and…that paint. This is tough for me, because I usually have zero issue fishing almost everything that I own, aside from some truly rare/unique pieces I don't own doubles of. This thing is an absolute casting machine with anything 5/16 oz and up. Spool is plenty fast without getting crazy and it's got the line capacity to back up those distance capabilities. Within the collection, the Purple Nurple is one that really stands out and these 103s are a VERY rare find in new or mint condition these days, so quite the conundrum, but I'm sure she will see some water time….soon?
Regardless, I had a ton of fun building this one and I hope you guys dig it.