The Megabass Arms Challenge World Edition rods.
These rods were limited to a worldwide production of 100 pieces per model.
Purchasers were able to customize each build by choosing options such as LEFT HAND or RIGHT-HAND orientation for the grip along with guide wrap colors, etc.
These rods utilized the legendary X7 blanks.
---
A6402XS "Multiplayer" has evolved the original masterpiece, the original Destroyer Spinning F2-64XS, for several generations. If you use the old F2-64XS fan, you can be sure that you will be satisfied with the latest technology. Excellent body balance that adapts to the body as you use it, and high adjustability that does not make you feel stress, responding to any field and situation without difficulty. In addition, the overwhelming high sensitivity specs unique to the ARMS Challenge develops an exciting light rig game that makes the underwater resolution clearer. A 6-foot 4-inch high impact shaft that is easy to return, surpassing the average flight distance of conventional 7-foot class rods. The light multiplayer that delivers silky line emission and high cast impact is the next-generation standard for spinning rods.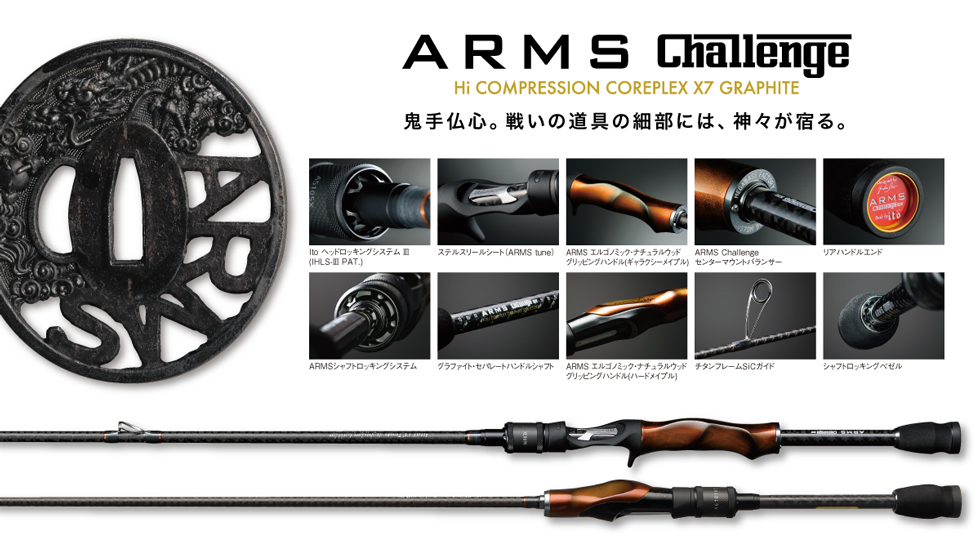 Go back a quarter-century from now. It was born as a weapon to fight the life of one man together. Its name is ARMS. Yuki Ito carved teakwood with his own hands and combined the shaft made of high elongation and high elasticity material used for aircraft at that time. ARMS was a mega bang DNA that later created Destroyer, derived Evolzion and Pagani, and was handed down to the latest Orochi. For a man who has betting his life and confronting his target one-on-one, it may have been beyond the rod. For Ito, fighting at ARMS was fighting with his own arms and may have been a way to arrange meals on the table for the family. ARMS is LIFE for fighting men.
Now, ARMS begins with you to challenge the far-reaching evolution in search of the strongest target ever. Just like that time.